They're calling her out!
We all know that things can get a little tense when it comes to the Eason family. Throughout her years on Teen Mom 2, Jenelle has been filmed screaming and fighting more times than can be counted. Recently, many fans have begun to think that there's more going on in the family than just bad tempers — and they think it's something far more sinister.
Rumors of abuse are nothing new when it comes to Jenelle and her family, but ever since she was formally accused of abusing Kaiser by Nathan's mother, fans have been looking for signs that the accusations are true. Now, many think they've found evidence that there is abuse going on in a picture Jenelle posted to her own Instagram.

Abuse Accusations
It's been a rough season of Teen Mom 2 for Jenelle Evans. Even though she's hit some huge milestones like wedding her third baby daddy David Eason and settling down with her new blended family, she's also had to field a huge amount of hate from Teen Mom fans.
The accusations got so bad toward the end of the season that Jenelle even threatened to quit Teen Mom 2 if things continued. "I told ['Teen Mom 2' executive Morgan J. Freeman] it's getting to [sic] out of hand and it's not healthy for us anymore, just harming us mentally. They treat all of us as if we are in a freak show and in cages. WE aren't human beings to @mtv what-so-ever," she announced on her Twitter following the accusations.
Things went from rumors to reality recently when Nathan Griffith's mother, Doris, got involved. As Kaiser's grandmother, she began to grow so concerned about the safety of her grandson that she petitioned the court to remove custody from Jenelle and grant it to herself. Doris went as far as to blame the Easons for bruises on Kaiser's body in addition to claiming she smoked weed during her pregnancy with Ensley. Even though the mother-of-three has since turned the tables on Doris and accused her of abusing Kaiser, the result of all of these accusations is that many fans are paying especially close attention to the state of her children.
The star shared the below snap of Kaiser pouting up at the camera in camo gear. She captioned it, "Mommy, Jace said 'No' at me. #BoysWillBeBoys."
It was the state of Kaiser's face that had fans concerned.
The Photo in Question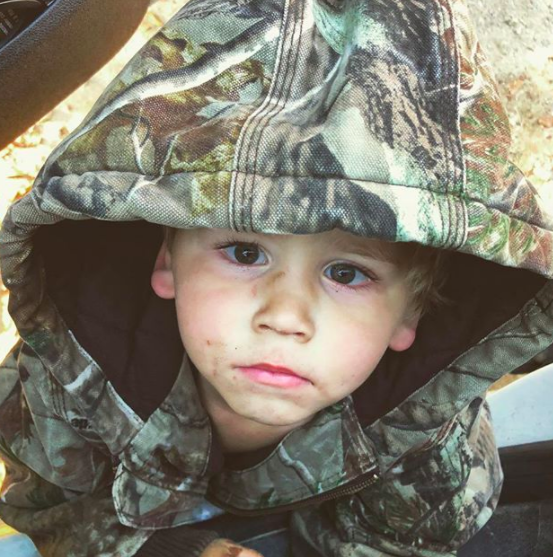 "Why does it look like he had a black eye?" Instagram user @zelayapineda wrote. User @dominiquehobden even went so far as to accuse Jenelle. "They put dirt on his face to make out he doesn't have a black eye. They are child abusers and those kids need to be taken off them," their comment read.
Of course, not all fans were so convinced. "Omg people it's dirt. Enough already with the accusations unless you know these people personally go find a hobby," wrote user @joyjones219.
"What a cutie. I see it's a crime to let him play in the dirt. freaking idiots man! Get a life and stop worrying about others!" agreed user @msantiago82.
What do you think of this snap of Kaiser? Which side do you fall on? Let us know in the comments and SHARE this article!