It's officially over!
Premiering in 2009, Teen Mom OG has been on television for almost a decade. Teen Mom 2 followed closely behind, premiering in 2011. The shows have both had very successful runs, and as the girls grew out of their teenage years and into their 20s and adulthood, they became celebrities in their own right. They've dished up some serious drama, feuds, and relationship problems over the years, and it looks like their lives aren't getting less crazy any time soon.
In a perfect world, Teen Mom would keep airing on MTV forever. But the truth is, that's just not realistic! After all, the show is called Teen Mom and already features girls in their 20s — there probably isn't a market for a show about suburban middle-aged moms.
But no one expected this Teen Mom series to get the axe so quickly. Fans were shocked and disappointed that this series has officially been canceled by MTV.

It's Over!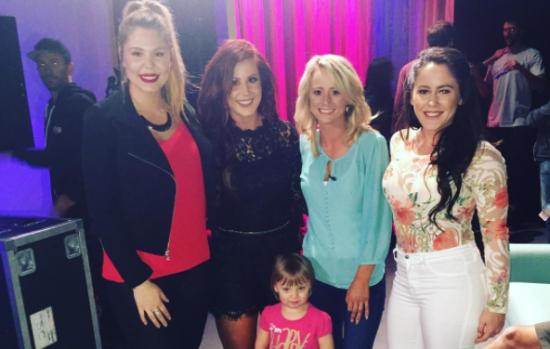 Teen Mom has a huge fanbase, with huge numbers of fans tuning in every Monday night to see all of the latest drama. However, there have been numerous rumors that make it seem the shows might be coming to an end sooner rather than later.
With Amber, Maci, Chelsea and Jenelle all talking about spin-offs, fans have begun to wonder if they're securing their future in case the show gets cancelled soon.
Some of the rumors of the show ending have even come from within the cast itself! Kailyn Lowry recently accused her co-star Briana of causing the ratings of the show to dip. When MTV first added Briana to the show, many fans saw it as a sign that they were trying to save the show from bad ratings too!
Well, when it comes to this Teen Mom series, there's no need to wonder anymore: MTV has officially given it the axe.
"Trashcanned"
Although Teen Mom OG and Teen Mom 2 are the two most popular TM series, MTV has created multiple spinoffs. Teen Mom UK provides an overseas parallel, and MTV recently announced that it was filming a spinoff with a very specific twist. For the first time, all of the girls would come from the same location: New Jersey.
Fans were excited about a new cast and seeing them interact in one location, but unfortunately, MTV wasn't so excited! The Ashley has just reported that MTV has cancelled this spinoff show… before it even aired!
"Last weekend the girls on the show got calls basically informing them that the show isn't going to air," a source told The Ashley. "They didn't really give them an explanation—just the standard 'We're moving in another direction' line. The girls are really upset because they've worked so hard on this project and were really excited for its premiere."
Disappointed fans, fear not; The Ashley also reported that there may be a chance that TMNJ would air on a different network or at a different time. However, the source reports, it currently seems to be "trashcanned."
Hopefully this doesn't mean that the other iterations will be on the chopping block any time soon!
Check out The Ashley's update here.
What do you think about MTV giving this show the axe? Let us know in the comments and SHARE this article!