The time isn't right!
It's shaping up to be a landmark year when it comes to Teen Mom pregnancies. Of the five cast members of Teen Mom 2, four of them had pregnancies within this year alone! They set the bar pretty high for their Teen Mom OG counterparts, and so far it doesn't look like they'll be able to keep up. Considering that Maci Bookout and Farrah Abraham have all but sworn off having more children, it's up to Amber Portwood and Catelynn Lowell to get on TM2's level.
Amber Portwood recently confirmed that she's expecting her second child with her new boyfriend, Andrew Glennon. The announcement was particularly unexpected coming from Amber, as fans were actually expecting Catelynn and Tyler to have the next baby announcement!
For a while, it looked like we'd be getting another Baltierra baby. Unfortunately, things with Catelynn and Tyler soon took a difficult turn, which resulted in their baby plans being temporarily put on hold.
In Treatment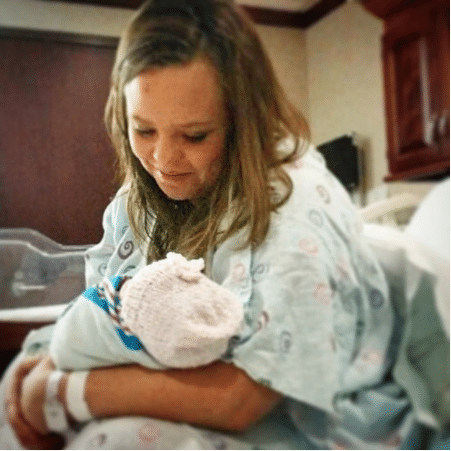 Catelynn Lowell's struggles with her mental illness is nothing new. She endured a huge amount of trauma during her childhood — from living in an unstable household to becoming pregnant at such a young age. After giving birth to Nova, she fell into a deep postpartum depression and had to use therapy and medication to pull herself out.
Recently, Catelynn and Tyler have been actively discussing having another child, despite her previous struggles. Tyler even opened up about trying to get pregnant with a boy, and Catelynn teased some pregnancy news of her own.
It wasn't long before fans were given an update about Catelynn and Tyler, but it wasn't one that they expected. Catelynn opened up about her renewed mental health struggle: "Today I thought of every way to kill myself .. so I'm going to treatment."
Of course, that meant a significant change in the Baltierra's lives and plans.
She gave more details to Radar Online:
"I'm taking the time I need right now to take good care of myself. On November 17th I thought of every way possible to commit suicide, from wrapping a belt around my neck to just running my car into an electric pole."
As more details about her struggle continue to come out, it's clear that some priorities in her life are going to be shifted. Now, it looks like her plans for a baby are being put on the "backburner," according to an inside source.
Not the Right Time
"[Having another baby] was something that they kind of felt, if it happens then it happens," the source told Radar Online. "Catelynn was so scared because of her postpartum depression, but after they bought the new house Tyler really started pushing for a boy."
Now, Catelynn is the focus — and rightly so. "Their main focus is getting Catelynn better and making sure she's okay on her new medication," said the source. "Some medications make pregnancy really difficult and right now I think they're both very scared about postpartum coming back."
For those who were looking forward to another Baltierra baby, it looks like the wait will take some time — but what really matters is making sure that Catelynn Lowell remains healthy and safe through her difficult time.
What do you think about this insider's update? Let us know in the comments and SHARE this article!