"Hopefully SOON!"
As far as the Teen Mom cast goes, Catelynn Lowell and Tyler Baltierra made a unique decision when they found themselves expecting a baby at sixteen. Instead of committing to raising a child when they were still children themselves, they decided to give their first baby up for adoption. This has proven to be a difficult choice for the couple, especially since their parents April and Butch were disappointed with their decision. In fact, Catelynn has revealed that many of her issues with postpartum depression stemmed from the fact that she and Tyler chose adoption.
Since then, the couple decided to have another child. Soon after their decision, Nova was born. Although Lowell dealt with some serious mental health problems afterwards, she and Tyler have since discussed having another baby.
Catelynn was hesitant about having a second child at first, now it looks like this couple is officially trying for another! Tyler has updated fans that they can expect a pregnancy announcement very soon.
Next in Line
Catelynn Lowell's second pregnancy presented its own unique difficulties, and it wasn't all about baby weight and morning sickness. The reality star's experience showed one of the most commons risks of pregnancy: falling into deep depression after giving birth. After spending time in therapy and working with Tyler, Catelynn recently reported to Dr. Drew that she's feeling much better mentally than she was after giving birth to Nova.
Now that their daughter Novalee is two years old, it looks like Catelynn and Tyler are going to try for another! The Teen Mom OG has expressed apprehension at the idea in the past due to her severe postpartum depression the last two times, but it seems the couple has made the decision to try for another regardless.
Of course, Tyler's slip comes hot on the heels of the news that Amber Portwood is pregnant with her second child. Naturally, Teen Mom fans have been anxiously waiting for the next announcement, since it always seems that these things come in pairs in the TM-verse.
Now it looks like Cate and Ty might be next in line!
Ready for Another?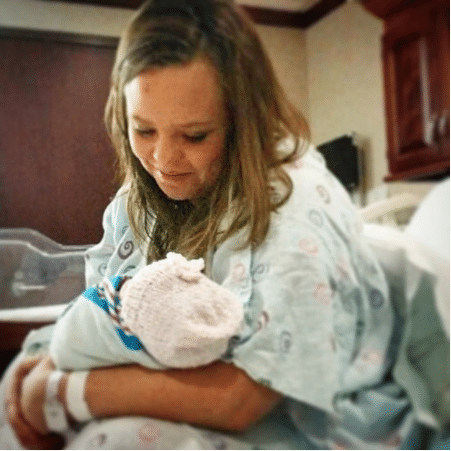 A fan tweeted Tyler and Catelynn, writing, "When can we expect a pregnancy announcement out of you guys? #urnext."
"Hopefully SOON!" Tyler wrote back to the fan.
Another user commented, "I'm praying that when it happens y'all have boy," and Tyler, unsurprisingly, replied "ME TOO!"
Noticeably absent from the exchanges was Catelynn herself, but considering her difficulty with pregnancy in the past, it's not hard to guess why. Fans discussed this update on Reddit, and they didn't seem happy at the prospect of the Baltierras having another baby.
"Screw getting yourself mentally in check ladies, we are about to have a TM baby boom on our hands!" wrote user LeahMether.
User surly_elk theorized that Cate has about all she can handle:
"She basically ran the house as a teen, and she went right from being a mother to April's kids to being a mother to her own. I think she's exhausted, but is afraid to tell Tyler no because she's so scared of losing him (and yes/no more kids is a big deal). It's just a big, huge mess of so much denial."
But others were less skeptical. "Wow…I guess you guys better let every mom who has had PPD know they should never have another kid with a guy they've been with for 10 years…. Seriously, they're stable and they're adults," wrote user 221bBaker1.
True enough, 221bBaker1. True enough.
Are you expecting a pregnancy announcement from Catelynn and Tyler soon? Let us know in the comments and SHARE this article!