There's no going back now!
When Amber Portwood confirmed rumors that she was pregnant with her second child, it caught much of the Teen Mom fanbase by surprise. Amber had never spoken about wanting another child in the past, and she had only been dating her new boyfriend Andrew for a few months. However, since then, Amber has been adamant about being thrilled about her pregnancy, and many fans have come around to the idea of Amber being a mom to a newborn all over again.
Even though there's still some controversy about her pregnancy, Amber is doing all she can to prepare for her new baby, including revealing pregnancy news in this massive way.

First Meeting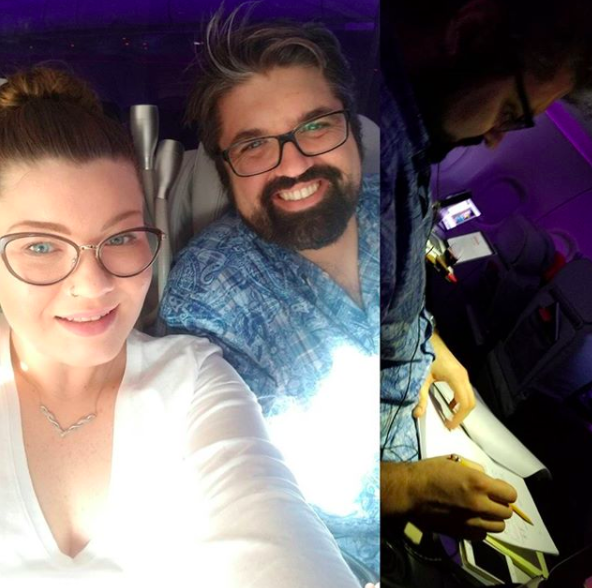 The length of Amber Portwood's relationship with Matt Baier is nothing to sneeze at. They dated for three years and were engaged for a great deal of it. It's no wonder how much whiplash there was when she revealed that she was pregnant… with another man's baby.
It was a shock for fans, but even the most die-hard Amber followers aren't as close with her as her family. Luckily, we got to see her drop the pregnancy bomb on her family… and their shocked reactions!
In the clip, Amber and her family head out to for a relaxing fall day, complete with pumpkin patches and hay rides. Amber introduces Andrew to her cousin Krystal, and then meets up with her mother, Tonya.
Together, the family all piles into a pumpkin patch shuttle for some quality time with Amber's new man.
After some pretty intensely awkward moments of silence, Amber drops the news. "Are you nervous to meet my family?" she asks Andrew. "They're not that bad, I promise!" she jokes.
No Joke!
"My stomach's starting to hurt," she hints, saying, "This ride is not helping." Then she turns to her mother to reveal the big news.
"Alright, I guess I'm going to tell you guys," she says. Her mother exclaims, "Oh gosh, now what?" and it's clear she's already a little nervous. "Don't put me in shock.
"I'm pregnant!" Amber reveals.
Her mother is clearly in shock. "Oh shut up!" she says. "Are you serious? For real?" Then she asks Andrew, "Is she joking?" to which he replies, "Not one bit."
So Tense
The scene could have been warm and exciting, but it's clear there's still some apprehensionon her family's part. Fans on Reddit were quick to pick the scene apart.
"It says something that 8 years later and your family's reaction to a pregnancy announcement is still the same, if not extremely similar," wrote user TruthAndTimeTellsAll.
User rightmrow wrote, "I really hope some 180 happens and this baby helps her mothering instinct come in full force. Which would lead to her seeing Leah more. We can only hope."
User IAm_TulipFace gave a lengthy breakdown of her family's reaction, with some pretty bold theories. "It's because her mom knows her daughter, and knows that this was on purpose. The Teen Moms make it look like getting pregnant just happens, but it's not that easy to just be pregnant, especially if you know and understand how to prevent pregnancy," they wrote. They even believed that Amber went to serious lengths to get pregnant.
"Amber went off her meds because she wanted to be pregnant," they theorized. "She says it's because her new boyfriend is so wonderful she doesn't need them (NOT how that type of medication works, she should 100% always be on it ESPECIALLY when she's feeling 'happy'), and he knows better… In this case, very literally she got pregnant with the first guy who came along."
It's clear that fans are anxious about this pregnancy, and the rumors she cheated on Matt with Andrew and that Matt might secretly be the father of her baby don't help!
What do you think about her family's reaction? Do you think Amber got pregnant on purpose? Let us know in the comments and SHARE this article!