Will Nova have a sibling soon?
It's not uncommon for the cast of Teen Mom to experience what they call "baby fever." After seeing one of their children grow older and older, they find themselves eager to have more babies! Some of the couples (like Chelsea Houska and Cole DeBoer) have planned out how many children they want, and some of the moms continue to have unplanned pregnancies! The common denominator? They love raising their adorable babies.
Among those parents are ready for more is Tyler Baltierra. Then again, that's not necessarily the case for Catelynn! Is this couple about to make their family a little bit bigger?
Baby Fever
Catelynn and Tyler were the only members of the Teen Mom cast to opt for adoption instead of keeping their first child. Now, little Carly lives with her adoptive parents, and because they have an open adoption, they can see her when her adoptive parents allow them to.
Since then, they've started their own family by having their own little girl, Nova. Apparently Nova is growing up faster than they can keep up with, and now this couple has been discussing having another child… or even more!
Tyler shared his feelings on the matter when he posted this picture of Nova's bed on Snapchat. He wrote, "Is this real life!?! I can't believe my little baby is in a big girl bed now. I need another baby now, like ASAP!"
Although Tyler and Catelynn have discussed having children in the past, after falling into an intense postpartum depression, Catelynn has expressed her apprehension about going through pregnancy again. Even so, Tyler is pushing for another baby — specifically, a boy — and Catelynn might be entirely on board with it!
Fans sounded off about how they felt about the two having more kids. User secretguiltypleasure wrote, "Baby fever is such a foreign concept to me lol especially when there were so many issues regarding the first two." They also discussed where they thought Cate and Ty might be when it comes to figuring out how big of a family they want.
Timing's Everything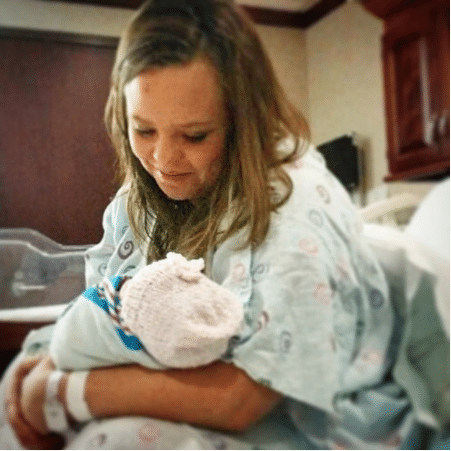 "Wasn't there a recent episode though where she asked if she needed to lose the post pregnancy weight or were they having a big family?" asked user Starbug82. Mrs_Stepford replied, "Yes, she's mentioned this a few times. It always confuses me because why not be in the healthiest shape possible, more babies or not."
Others were more than open about the fact that they don't think Tyler and Catelynn should have more children… at least not right now. "Dear god please no no no," wrote realwomenwearrompers. "They need to raise another kid as much as Jenelle does." User suspiciouscollie agreed, "He can have as many babies as he wants, but they'll never be Carly. Get some (better) therapy, Ty."
In the mean time, Catelynn and Tyler are still having difficulty navigating their relationship with their first child, Carly. On a recent episode, Catelynn said, "Are we done having visits with Carly forever? Until she's 18 I'll hear nothing from her? It is f**king frustrating because I was 16 years old when I made this decision."
But it looks like they're on the right track to accepting it, since Tyler tweeted, "They will always be justified because they are her parents and we are not. We do have an open adoption. They are just making decisions that they think are the best for Carly. Which is exactly what they should do."
Fans weighed in about how often they see Carly and didn't necessarily think it was the most healthy.
"This is why I personally think Cate does not benefit from physically seeing Carly. I think it hurts her way too much to see Carly live a happy, thriving life and calling another woman Mom. Tyler has already said that it kills him whenever Carly calls Brandon Daddy, so I wonder if Cate feels the same way. They're both still way too attached to Carly and are always wondering 'what if' in regards to her adoption. Those thoughts might become unbearable whenever they see her in person," wrote Reddit user catelynnscarlyblanke.
Do you think that Catelynn and Tyler will be expecting soon? Let us know in the comments and SHARE this article!