They're expecting!
Teen Mom has seen a huge amount of pregnancies this last year alone. Maci Bookout, Chelsea Houska, Jenelle Evans, Briana Dejesus and Kailyn Lowry have all had babies recently. That means that in addition to a huge amount of adorable baby pictures, the cast members also all have their hands full raising newborns.
Teen Mom probably broke some records when it came to new births in a year, but now there's one more star who's adding to the number. This OG cast member has just announced a pregnancy, and we can't wait to see the new little one!

Growing Family
Maci Bookout's family is still expanding, whether she planned it or not. She was surprised when she found out she was pregnant with her third child, but she and Taylor have done their best juggling Bentley, Maverick, and Jayde.
Now, it looks like someone very close to Maci is going to be growing their family as well.
Maci's ex boyfriend Kyle, whom she dated after Ryan but before Taylor, just announced he's expecting his second child! He shared the big news with an adorable picture of his firstborn son Krew next to a checklist that reads, "TO DO: Enter the world, steal hearts, learn to crawl, learn to walk, start talking," and "Become a big brother!" Kyle will be having his second child with his baby mama and wife, Kendall.
Paternity Issues
Some fans are familiar with Kyle for a reason Maci probably wouldn't be too keen on. The truth is, many fans believe that Kyle may secretly be Bentley's father.
During an episode earlier in this season of Teen Mom OG, Ryan's father larry threatens to drop a huge bombshell about Maci. "One day 'yall are gonna know the d**n truth [about Maci]," he threatens. "You're gonna know the d**n truth. And so will Bentley."
According to Inquisitr many fans believe this bombshell is that Kyle is secretly Bentley's father! Fans have even made side-by-side comparisons of Kyle and Bentley trying to prove that they're related. The truth is, the theory doesn't pan out very well. It would be very odd of Ryan to be fighting so hard to see Bentley if he and Larry knew that Kyle was the child's actual father!
Adoption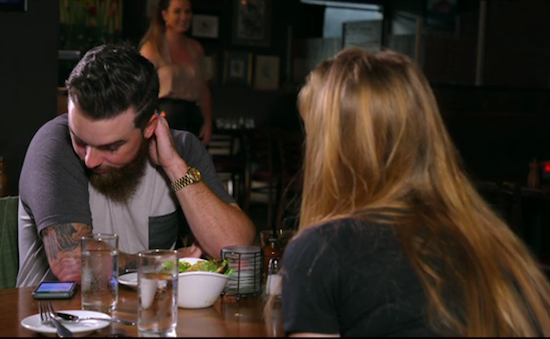 In the meantime, Maci Bookout continues to entertain the idea of having another child. There's just one twist: Maci and Taylor would prefer to adopt a child than to have another biological child. It was while they discussed this adoption that Maci revealed that she had suffered a heartbreaking miscarriage.
"What kind of timeline were you thinking about for adoption?" Taylor asks Maci in a recent episode as they celebrate their anniversary.
Maci reveals, "A year, two years… But we both agreed that when we adopt, we do not want to adopt a baby. We want to adopt a child."