Leah was shocked to hear it!
By now, all of the Teen Mom cast members surely understand that when fans don't like something, they're very vocal about it. This outrage can be about the star's personal decisions, their lifestyles, the way they raise their children, and even the people that they date. While it must be difficult to face criticism from fans on a regular basis, the cast members seem to make an effort to communicate with fans about their choices whenever they need to.
But in this instance, fans are standing up for one of the cast members, and her children! We know — we're surprised too. Many attentive fans noticed that MTV was putting Leah's children at risk with one of their production decisions, and they contacted Leah to tell her. It should go without saying that the fans were furious with the network for letting this happen.
Scary World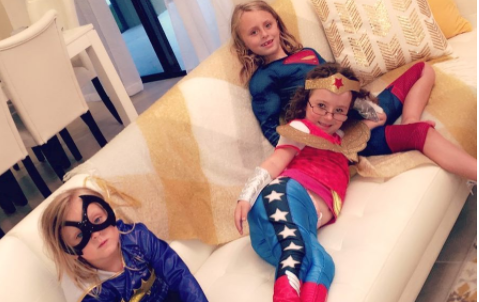 Leah Messer isn't new to interacting with fans on social media. In fact, she's had some run-ins with particularly combative fans who have criticized her for putting her daughter's health at risk or even of driving a wedge between her twins. The tables have turned, though, and fans have been contacting Leah on social media to warn her that her children's safety could be at risk as a result of one of MTV's decisions.
In the season finale of Teen Mom 2, Leah got emotional about bringing Addie to the bus for her first day of pre-school. It was a touching moment, and Leah seemed through the roof with pride for her children. Then, attentive viewers noticed a small detail that could potentially cause big problems: MTV had not blurred out the girls' bus number.
One fan, Twitter user neveragain842, contacted Leah to let her know. "I was watching @TeenMom and they showed your daughter's bus number.. @MTV THAT IS NOT OK!" they wrote. "As a parent myself, I would not want random people knowing my child's bus number! #scaryworldoutthere."
Apparently, Leah wasn't even aware of this oversight on MTV's part. She responded to the fan, "They're not suppose to show numbers/letters or anything." She also promised, "That's not okay and will look into it."
The fan went on, "I hope and pray for your family's safety and whoever shot that part of the scene gets reprimanded."
Going Too Far
Although it may seem like overkill to get the school bus numbers blurred out, the truth is, it's not rare for reality stars to have fans who go too far to meet them. In fact, many of the Teen Mom cast members have had such experiences.
Jenelle had reporters show up to her wedding to try to get the scoop without her permission. She's even had fans call Child Protective Services in an effort to make her lose custody of her children amidst abuse allegations.
Chelsea Houska has also had fans go too far with her. She opened up about her close call on Twitter to tell fans to stop. "When I was pregnant with Watson I had someone come to my door. I answered thinking it was UPS or FedEx w a package," the mother-of-two wrote.
"They proceeded to touch my pregnant belly and ask me personal questions about my life," she said. "Unfortunately it's been happening enough lately where I just felt like I had to say something."
What do you think about MTV airing Leah's children's bus numbers? Let us know in the comments and SHARE this article!