She could have been ticketed for this
Jenelle Evans lives in a natural paradise, and she regularly enjoys the outdoors. It seems like little Kaiser is going to follow in her footsteps as you can usually find him digging in the dirt on his mom's extensive property. He also loves splashing around in the water, but his father Nathan Griffith says that he's afraid to go near water now. Could Jenelle's parenting skills really be to blame for that?

Raising Kaiser
Jenelle and her ex-boyfriend Nathan Griffith are really at war right now over their three-year-old son Kaiser. They can't figure out how to be civil with each other as they co-parent, and they've taken to name-calling and accusations over social media to make their points.
Nathan has been saying that Jenelle and her fiancé have been bad-mouthing him to Kaiser. He wrote on Twitter, "Because your 'man friend' wants to call me a f***ing queer in front of my mom and my son without me there but is always nice to my face. Anyways, DAVID EASON, if you want to man up for once and talk to me like a man, face to face, I would love to exchange words like adults."
Boating Mishaps
Nathan got all the ammo that he needed for Jenelle; even her own fans were angered when they saw her recent Snapchat story. Jenelle and David took Kaiser out on a small boat, and the child was pictured hanging over the side of the boat without a life jacket on. It seemed like a dangerous situation.
Nathan wrote, "This is way I am so concerned about his wellbeing. Kaiser is now so scared to be in deep water. Kaiser used to love the water, but [now] Kaiser is petrified of the water. Why? Kaiser told me he fell off the boat! Am I worried? Yes I am petrified!"
Jenelle's fans also expressed outrage about the situation, but she said that everyone needs to look closer and read the North Carolina laws.
You, Me, and The Lawyers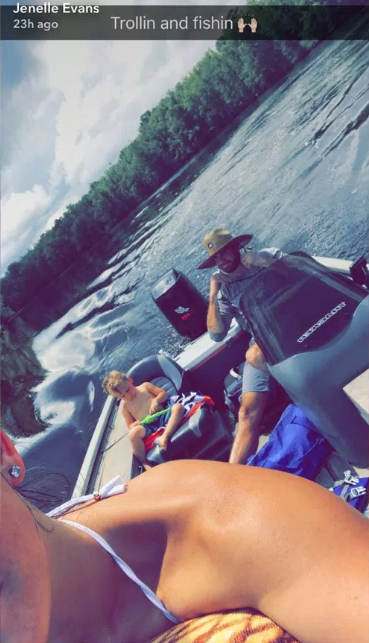 Jenelle said when asked about why she would allow her kid to be on a boat without a life jacket, "The Snapchat video I posted of Kaiser I made public on purpose. The boat wasn't in motion, was anchored and it was VERY hot. So Kaiser took his life jacket off for a few minutes inside the boat." In North Carolina, people 13 must wear a life jacket inside a boat, but only when it's in motion.
She chalked Nathan's freakout up to him being upset about his relationship to her. She continued, "If Nathan is so concerned maybe he should report it to the authorities not to Twitter. I'm so sick of this drama from him. There's lots of reasons behind Nathan's behavior right now, but to protect my son I'm not posting it publicly and that's no one else's business but my own and my lawyer."
Nathan has not filed any motions against Jenelle over what he perceives to be abuse. Do you think that Nathan was in the wrong, or is he just looking out for his little boy? Let us know what you think in the comments and SHARE this story!