Baby Talk!
Things are moving pretty quickly between Briana and Javi, but they both seem to like it that way! Only a few weeks after rumors started up that they were getting friendly, the two announced that they were dating. Since then, they've spent a huge amount of time flying back and forth between Florida and Delaware to spend time with one another.
They've even let their children play and spend time together as if they were siblings! In the mind of many a fan, it's only a matter of time before Javi and Briana announce that they're expecting a child together. That said, pretty much no one expected it so soon! Fans think that today could be the day, since Briana posted this pic of her that clearly shows a baby bump.
Look away, Kailyn!

"My Love"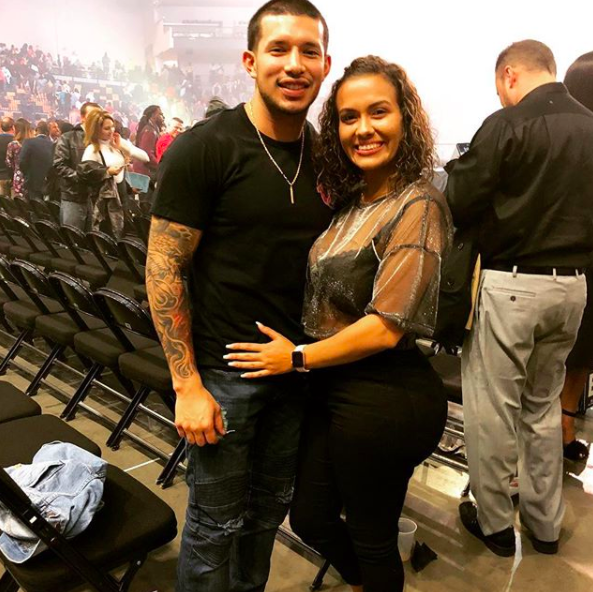 Even though Briana and Javi faced rumors of a breakup after they spent Christmas away from one another, it looks like things are back on track. The couple managed to get together to celebrate New Year's with one another at a Kevin Hart concert. Briana posted this pic of the good-looking couple at the show, writing, "Bringing in the new year with my love. I really can't thank this man enough for being so amazing!"
However, that's not all of the celebrating that Briana did to ring in the new year. She also shared a video of her and Javi, but that's not what had fans talking pregnancy… Instead, they focused on the filter that she had chosen to use for her snaps!
Baby Bump
Briana's bitmoji has a clear baby bump! Is this her way of announcing that she's having another baby? Or did she simply not want to change it because she and Javi are trying to have a baby?
For fans who are waiting for this couple to produce a bundle of joy, things were looking good… until Briana cleared things up on Twitter.
"No I'm not pregnant lol just never changed my Bitmoji," she wrote. The star broke some hearts with this one, but fans don't seem to think they'll have much longer to wait before the official news comes in.
"Won't be long tho #justsaying," said Twitter user @LovenMy2Girls. User @ItsEmmaa19 tweeted, "Give I a couple of months and you will be…" User @lexhex311 wrote, "Lies! Didn't jenelle or someone else pull that shit too. Then months later….. TADA."
Strange Triangle
However, more fans were interested in the fact that Briana, Javi, and Kailyn are caught in one of the strangest love triangles Teen Mom has ever seen. Kailyn recently uploaded what some thought was a "flirty" exchange between herself and Javi while they spent time with their son Lincoln.
Twiter user @CortneyKrystal wrote, "You may not be pregnant but Javi was hanging with Kail yesterday… so she will be."
Hopefully, if Javi and Briana do end up having a child together, Javi can get onto better terms with Briana's mother, Roxanne. After Javi revealed that he wasn't going to be deployed, Roxanne went on a Twitter rampage about him, implying he had made the entire thing up.
"How many times can you say I'm being deployed and not get deployed," Roxanne raged on Twitter. "Stop using deployment as a tool for sympathy. But it's a good story line [get the f*ck outta here]."
She didn't stop there. "DONT you f*cking dare act like you do much because I f*cking do it ALL! And don't come playing the victim," she went on. "You are not the victim!! HOW MANY TIMES DO I HAVE TO GIVE OF MYSELF TO F*CKING PLEASE YOU!! Sit on that…"
(To be fair, this could just have easily been about any of Briana's baby daddies or about Briana herself.)
What do you think about Briana's tease? Could she be sharing a baby announcement soon? Let us know what you think in the comments and SHARE this article!