Did she put Ali's life at risk?
Everyone has their own way of parenting and doing what they think is right for their children. Even when choices are unpopular, it's ultimately up to the parents to choose what they think is best for their children. But sometimes these choices go too far, and when the children's safety and lives are at risk, it's time for others to intervene.
Could Leah Messer be at that point? Her parenting has been controversial from the very beginning, but with a daughter with special needs, Leah is responsible for paying extra close attention. Did she put Ali's life and safety at risk for her own misguided reasons?

Heartbreaking Diagnosis
When Leah Messer's daughter Ali Simms was only a few months old, Leah began to notice something concerning about her. She wasn't developing quite as quickly as her twin sister, Aleeah. After spending months going in and out of the hospital, Leah discovered that her daughter had a rare form of muscular dystrophy that would inhibit her development and motor skills. Needless to say, Leah was absolutely devastated, but she has stayed strong to make Ali as comfortable as possible. In fact, she recently shared that she and Ali spent the night in the hospital together as a result of her condition.
But Leah has spent recent years doing all that she can to make Ali feel comfortable and keep her safe. It's clear that Leah wants to give her daughter the same childhood that her twin and younger sister have. Unfortunately, though, there will always be things that Ali won't be able to do.
Go Team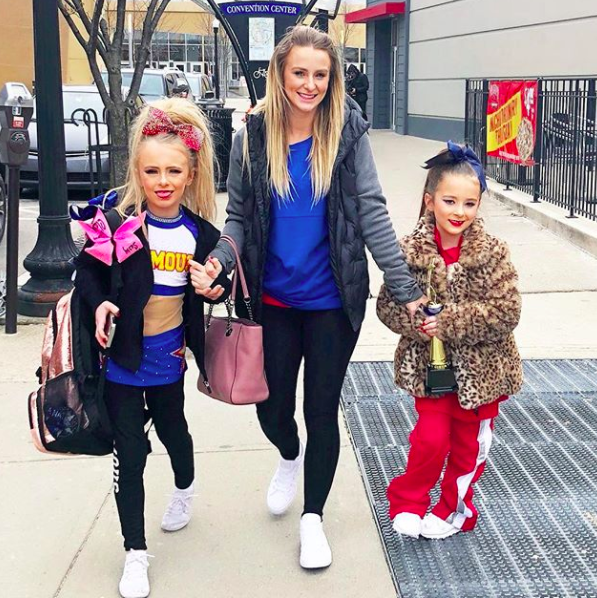 Recently, Leah has been sharing pictures of her daughter Aleeah during her cheer tournaments, and fans understood why her twin sister Ali wasn't there as well. However, Leah recently shared a picture of Ali that has fans divided.
Leah shared this picture of Ali doing her own cheerleading! She appears to be part of a special needs team that has routines with her sister Aleeah's team as well. In the picture, Ali is a flyer, meaning that the young girls from the other team are responsible for holding her up and keeping her safe. Even though it's clear Ali is enjoying herself, fans were outraged by Leah's choice.
Pushing Too Much?
"The doctors have been saying for years that Ali shouldn't be on her feet and doing strenuous activity – and yet she's involved in cheering and softball. I'm glad that those [activities] give Ali a chance to feel normal and happy, but they're going to destroy her muscles," wrote reddit user Stabbymctits. "I'm not an expert obviously, this is just based on what Leah's been told for YEARS."
"Why is Ali a flyer?" asked kelseyxiv. "Good lord that's like the most dangerous position for her to occupy with her disability. Just the way she has to be held and caught could hurt her. This is dumb." User spookyookydoo pointed out, "It doesn't look like she's very secure and that worries me. If they dropped her imagine how devastated everyone would be? And it wouldn't even be their fault." They added, "Leah needs to try making the helmet 'cool' and using her wheelchair 'cool' as much as she makes cheer 'cool.' Listen to the d*mn doctors and help her maintain as much of her muscle as she can! There are sports she can be in and be in her wheelchair, which I think would be pretty d*mn cool!"
Not everyone thought Leah's choice was bad, though.