She's trying again!
Many of the Teen Mom cast members have shown just how difficult growing up can be, especially when you throw teenage motherhood into the mix. Having a child at such a young age forces teenagers to grow up and start acting like parents before they're even done being kids themselves. Needless to say, it can have some serious ramifications down the line, and can make coping and adapting very difficult.
Many of the Teen Mom cast members have struggled to maintain their mental health over the years, and their childhood experiences and teenage pregnancies have likely played a role. For Catelynn Lowell, clinical depression has also played a major role in her mental illness, and despite her attempts to self-medicate with illegal drugs, she's finally gotten the help she has needed for years. The Teen Mom decided to check into treatment for her suicidal thoughts in November, turning a new leaf and starting a healthier chapter.
Fans were relieved when Catelynn revealed that she was returning home to be with her husband and child, and were happy to hear that she was feeling better. Unfortunately, the star may have checked out a bit too early. She's now announced that she is heading back into treatment for another stretch, hoping to tackle not only her depression but also her childhood traumas.

Back to Treatment
Although she found it difficult to admit even to herself, Catelynn Lowell grew up in a very difficult and sometimes abusive household. It's easy to think that these things will fix themselves once the situation is a thing of the past, but the reality is that sometimes horrible experiences have a way of sticking around and coming back to haunt us at the worst times.
Right now, the star is happily married, has a beautiful daughter, and has even made a massive step toward having a third child. Unfortunately, it seems that her mental health struggles and childhood experiences have a stronger grip on her than she first thought.
Although Catelynn only recently left treatment, she just announced that she'll be heading back for further therapy. "Well they say third time's a charm," she tweeted on Jan. 16. "I'm going back to treatment people for 6 weeks to work on my trauma and getting on different meds." She was previously in treatment for suicidal thoughts, which may be playing a role in this trip as well.
Before signing off, she also thanked Tyler for his support. "I love you so much," she wrote to him on Twitter. "You are my light! And Nova you are my sunshine. #KeepTalkingMH."
Endless Support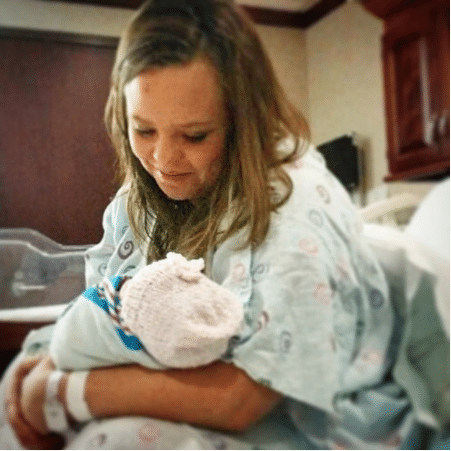 Catelynn has been dedicated to being open and communicative about her mental illness over the years, as well as what she has done to heal. She often signs off "Keep Talking [Mental Health]" which is a movement she seems committed to. Fans were quick to share an outpouring of good will and hope for the young mother on her journey.
"Total respect for you and your openness to your fans hopefully you will come back stronger mentally and happier," wrote Twitter user @donnahoward2.
User AmandaGoings4 wrote, "So proud of you for being strong enough to continue working so hard on a healthier and happier you!! Please never doubt how amazing and fierce you are. Continuing being the warrior mom, the fighter that we all believe in and love! We will always be here, fighting with you."
Catelynn seems to be optimistic about heading back to treatment, and in the meantime, it's clear that she has endless support behind her. If it helps, we here at TeenMomTalkNow sned our support and positive vibes, as well!
What do you think about Catelynn's decision? Let us know in the comments and SHARE this article!