She's getting ready!
Unlike any of her Teen Mom co-stars, Catelynn Lowell went down a unique path when she first discovered she was pregnant as a teenager. Instead of raising her child on her own, the young mother realized that she wouldn't be able to provide the lifestyle she wanted for the child. Instead, she and Tyler chose to put up their first daughter for adoption. Although Catelynn and Tyler agree that they would have had an incredibly hard time raising their child at such a young age, their choice to put Carly up for adoption has been a difficult one to swallow over the years.
Now the couple has a three-year-old daughter, Nova, who takes up plenty of their time and attention. The star struggled with severe postpartum depression after giving birth to Nova, but that hasn't stopped her and Tyler from considering having another baby.
It's been up in the air whether these two would end up having another baby or not, but now it looks like they've made the choice. Catelynn has been making some concrete plans about having her third baby — and she seems to already be getting emotional about the idea!
Baby Three!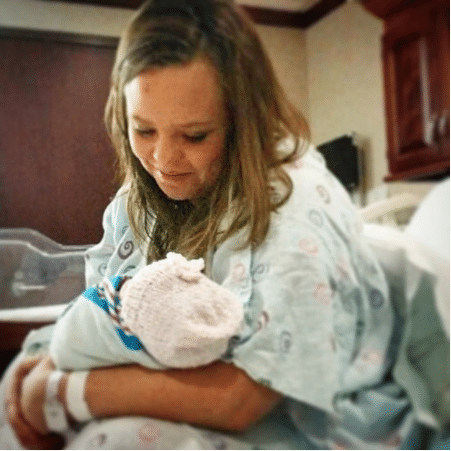 Ever since Catelynn gave birth to her second child, Nova, her husband Tyler Baltierra has been pushing for the couple to have another. Following Amber Portwood's pregnancy announcement, many fans thought that Cate and Ty would be next in line to share happy pregnancy news. However, it seems that there are a lot of battles these two need to overcome before they go too far down that road.
In this sneak peek at next week's episode of Teen Mom OG, the young mom gets real about baby talk with her doctor. In the clip, she reveals that she made the difficult decision to get her IUD (Intrauterine Device) removed. Her doctor points out that she had cancelled several appointments to get it removed, and asks Catelynn whether she's sure that she wants to have it taken out.
"I think it was me basically fighting with like… self talking," the OG reveals. "It is scary going from one to two! I had postpartum with Nova, so I think that was one of the factors, too."
Even so, she says that she's sure she wants to have the birth control removed.
Pregnancy Preparations
She and her doctor talk about the technical sides of pregnancy, like the star's antidepressant dosage. She then points out that because Catelynn had gestational diabetes when she was pregnant with Nova, and tells her she needs to be "proactive about getting the weight down" by about fifteen or twenty pounds.
"I suspect you're going to be ovulating soon," the doctor says. "We don't need it to happen, like, tomorrow!" Catelynn exclaims.
It's pretty hard to deny the fact that the Teen Mom seems apprehensive at the idea of getting pregnant immediately, but her husband Tyler doesn't seem to have doubts. In fact, fans seem to think that Tyler might be pushing Catelynn to have a baby even if she doesn't want to.
Either way, baby plans are probably on hold for Catelynn and Tyler considering the fact that she recently sought out treatment for having suicidal thoughts. It looks like she's focusing on herself before she thinks about having another baby.
What do you think about Catelynn's pregnancy plans? Let us know in the comments and SHARE this article!