Too much!
Apparently, there's something about being a Teen Mom cast member that really makes you want to get plastic surgery. Numerous members of the cast have gone under the knife, including Farrah Abraham's breast implants and boob lift, Jenelle Evan's facial fillers, and Kailyn Lowry's "mommy makeover." But the newest member of the Teen Mom 2 cast is holding her own when it comes to surgery — in fact, Briana is giving Farrah a run for her money.
Briana has gone under the knife multiple times to get her body looking the way she wants it to. Since having Stella Star, Briana has shared that she can't wait to go back under the knife.
Did Briana go too far when she gave this NSFW detail about her surgery? And what will Javi think?

Another Side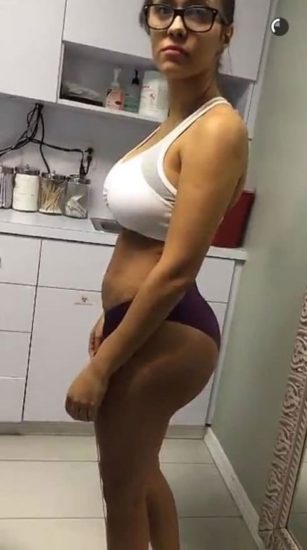 Although Briana comes off as reasonable and down to Earth on Teen Mom 2, many fans have pointed out that she tends to take on a different personality while she's on Twitter. That definitely came through when she gave a bit of an overshare with fans about her upcoming plastic surgery.
Briana was ready for more plastic surgery right after she gave birth to her second daughter, Stella Star. Unfortunately for her, she had to wait several months to go under the knife again. With that date swiftly approaching, Briana is opening up about all of her plans. Although her plastic surgery pictures have been publicly revealed, she leaked a little more than normal with these tweets.
Lips are Sealed
Briana's appointment is quickly approaching, and she gave more than a little tease with these tweets. ""I want a boob lift + implant reduction, lipo 360, tummy tuck… Maybe a little Botox but we shall see," she wrote. Then she added, "And I kinda wanna redo my lips."
A follower joked, "Which [lips]? Lol jk." But Briana replied, "Probably both, I'll make sure to send u photos."
Briana probably thought this was a harmless joke, but some Teen Mom fans weren't impressed. "She's so gross," wrote Reddit user wadamelin. "Telling other guys you're going to send them pictures of your lips… while you're supposedly in a relationship, wether you're joking or not is gross."
User Erotic_FriendFiction chimed in, "I had the same thought, but what if she thought this person meant just the top or bottom lip? LOL she's not the brightest crayon in the box so I wouldn't put it past her."
Bragging Briana
But that's not the only update that rubbed fans the wrong way. One fan recalled her money problems with baby daddy Devoin, and wrote, "Complaining about how you struggling but you'll get those lips done."
"It's great when u can get surgery for free or have someone else pay It for u. #livingthelife," Brianna bragged!
Fans were less than impressed with Briana's tweets, as well as Dr. Miami's work in general.
User brittany16691 wrote, "It's funny because free doesn't always mean that it's better. It's better to give a surgeon thousands if they are great at what they do. I dunno why she would brag about something like that on social media when we all know what she looks like with those 'great' free surgeries."
What do you think about Briana brags about her bargain surgeries? Let us know in the comments and SHARE this article!