Getting Cozy!
Amber Portwood has always done the unexpected. From becoming pregnant at the age of 16 to being arrested for domestic abuse and drug use, it's safe to say she's faced some difficult times in her life. Even so, her life seemed to be on a serious upswing when she got out of jail – that is, until she started dating Matt Baier. It goes without saying that fans weren't very happy about the relationship, and many breathed a sigh of relief when the couple eventually broke up.
Naturally, Amber's unexpected nature showed its head again when out of seemingly nowhere she announced that she was pregnant again! By now, Amber is a few months along, and she seems thrilled about the news. It's left fans curious about one thing, though: who's the father?
Sure, we all know that Amber's baby daddy is named Andrew Glennon, but since he hasn't appeared on the show yet, we don't know very much about who he is as a person. Luckily, Amber is drawing back the curtain to show us how the couple really lives by sharing this shot of them together in bed!
Moving On
As much as some Teen Mom cast members would like to change it, when you have a child with someone, you commit to them for at least 18 years. The stars would really like to forget that their baby daddies will likely be a part of their lives for much longer than that, too.
Even though it's hard to make such a serious decision when you're only 16 years old, the cast members have had a long time to reassess what they want out of their lives. That's why most of the girls got it right their second time around, and ended up marrying their second (or, in Jenelle's case, third) baby daddies.
We're all hoping that the same applies for Amber Portwood. Needless to say, fans are desperate to learn all there is to know about her new man and the future father of her child.
Unfortunately, Amber hasn't been very generous with information about Andrew. We know that they met while Amber and Matt were filming Marriage Boot Camp and that he's excited to be a father – but that's about all we've got at this point. Now it looks like Amber is finally being generous with an inside look at her life after sharing this snap of her and her man in bed.
Cuddling Up
"Good Morning loves! Wanted to share the beautiful view with everyone," Amber captioned this shot of her and Andrew reclining on a lazy day in Malibu. It's no wonder she wanted to share this picture, considering how gorgeous the view from her window it!
Thankfully, this isn't the only shot that Amber shared of Andrew.
Andrew's Past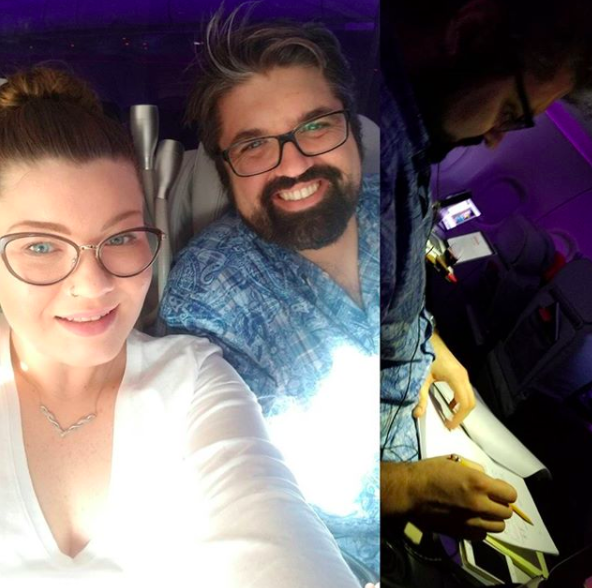 She also shared this selfie of her and Andrew at the beginning of their trip. "On our way to Malibu yesterday with my baby hard at work next to me," she captioned this one. Andrew is already showing some greys, but he's much closer to Amber's age than Matt, at only 33. (That's only 6 years older than Amber — Matt was 19 years older!)
Amber and Andrew seem like they're having a wonderful time waiting for their new little one, but it's hard to ignore some of the skeletons in Andrew's closet. In fact, it was recently revealed that he has a pretty lengthy criminal record. Hopefully, Andrew has turned a new leaf, for the sake of Baby Portwood-Glennon!
What do you think about Amber's new picture? Let us know in the comments and SHARE this article!