They didn't hold back!
Being a celebrity means that people are going to analyze every single word that you say. When you say it publicly on social media, it's going to be under even more scrutiny! Even for the stars of Teen Mom many times their comments are taken to be offensive, misguided, or ignorant. This time, though, it's not so much about context… these comments are pretty racist. Period. There's really no arguing that.
Fans were shocked to see what this Teen Mom cast member said on Twitter, but, judging who it came from, they weren't all to surprised srprised!
Back and Forth
The casts of Teen Mom OG and Teen Mom 2 tend stick to their own. The 2s and the OGs almost never interact or overlap! Even more rare is exes of the girls spending time together or talking, even on social media. That's why this Twitter interaction was so strange from the get-go.
It started when Farrah Abraham's ex, Simon Saran, tweeted his political opinions. He wrote, "I've never seen so many racist Americans hate a white man and blame every event that happens on him. Sorry dude it sucks @realDonadlTrump."
Of course this was inflammatory for various reasons, but he got a reply from a certain someone: Jenelle Evans' ex, Courtland Rogers. Courtland wrote, "Who are u to call any American racist ?? Are u even American ? "Hate a white man" what kind of racist sh*t is that?? Smh."
Simon fired back, "I mean my tax dollars go to support your sections 8 trailer park a** so yeah I'm about American as it gets lady." Courtland replied, "Sections 8 trailer park a** ??? Lol I better quit talking sh*t before u hijack a plane and fly it into my house."
Even though Simon and Courtland were obviously at odds with one another, many fans didn't take sides; instead, they wrote off both of them. User coesam wrote, "and here, ladies & gentlemen, we can observe two species of the same kind: the lower class bigot and the higher class bigot." User wiredmom agreed, "One is a classist and one is a racist. Team no one. Both are raging a**holes."
Making Up?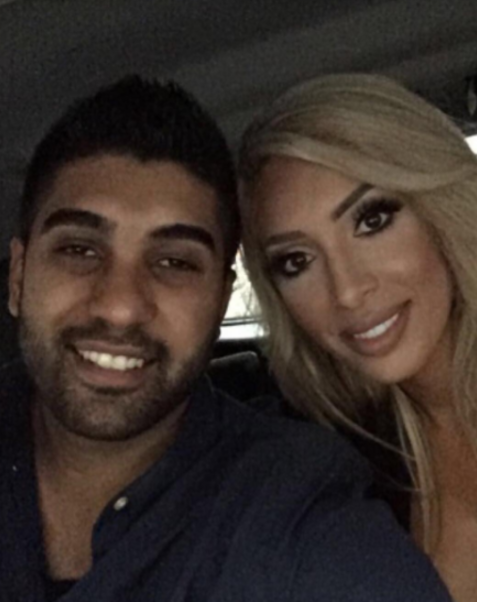 This isn't the only reason that Simon is back on the Teen Mom radar. In fact, many believe that he might be making a full return, since some believe that he and Farrah are back together again and dating in secret!
The rumors started when Farrah and Simon both began updating their social media from the same place: Greece! In fact, a few weeks ago, they were also both in Tulum at the same time. Even though they didn't take any pictures together in either place, fans had theories that they may be back together, but keeping it secret for publicity reasons.
"I think Farrah is trying to look single for work," Reddit user Everythingisborrowed wrote, "But Simon keeps f**king it up for her. he probably thinks this whole thing is joke and trying to annoy Farrah. [They're] definitely a long term couple I love that Farrah is creating this weird web."
"So Farrah is on vacation with her mother, and Simon and Sophia, I'm glad Sophia changed her mind and is letting Farrah hang out with all of them again," Reddit user elh1983 joked, referring to the fact that Sophia had previously "banned" Farrah from spending time with Debra and Simon.
Check out more about Simon and Farrah's potential secret romance here.
What do you think about Simon and Courtland's fight on Twitter? Let us know in the comments and SHARE this article!