She's reaching out to fans!
Being a celebrity might make some experiences easier to go through. But despite their paychecks and the cameras following them around, reality stars suffer through devastating moments just like their fans.
There's nothing harder than suffering through a loss in the family, and this Teen Mom cast member is experiencing it firsthand. Now she's opening up with fans and sharing exactly what she's going through.

New Girl on the Block
We may be seeing a lot more of Mackenzie McKee very soon. It's unclear what her MTV employment status currently is, but she is rumored to be joining the cast of Teen Mom 2 or even replacing Farrah Abraham on Teen Mom OG. In the meantime, Morgan J. Freeman has been spotted on her Snapchat, and there are reports that she's at least getting her own special episode that will come out soon. Even though she isn't currently a cast member, her time on Teen Mom 3 still made a lasting connection with fans. Now, she's opening up about a loss in her family. She's just shared that her dog, Scooby, has passed away.
Scooby Doo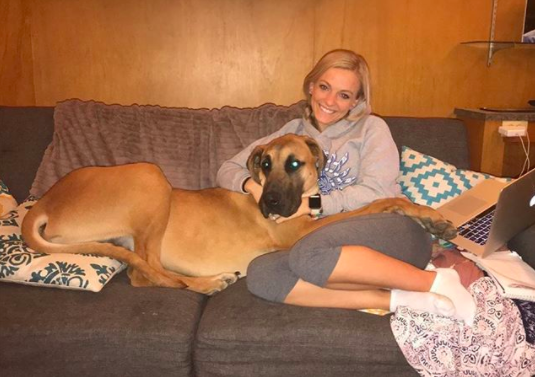 "O my scooby doo how I have loved you from day 1," Mackenzie shared in an outpouring on Facebook and Snapchat. "I spent 6 hours on the road to go get you and bring you home as soon as your momma let me have you… I am so broken and so sad."
She then explained how Scooby passed. "We got Scooby at 8 weeks old and little did we know he was born with and was living with only 1 lung," she explained. "Josh would tell me sometimes he noticed he would breathe heavy in his sleep but I thought he was dreaming and laughed it off. I would never have guessed this."
Soon, Scooby's condition became more of a problem. "The other lung all of the sudden filled up with blood and just like that he suffocated," she shared. "The vet said there was absolutely no way of knowing and no matter what we did this was going to happen. Had they somehow caught it sooner it would be a 50,000 dollar surgery and he most likely wouldn't make it even after that."
A Difficult Loss
Clearly, Mackenzie is struggling to get through this loss. "My heart aches I just want him back so bad," she shared. "Pray for Gannon he was the one who went to feed him and noticed he was no longer alive. This is just horrible and I'm ready to wake up already."
This is far from the only hardship that Mackenzie is experiencing right now. She has also recently revealed that her mother has recently been diagnosed with stage 4 brain cancer.