Busted!
Just because you fall head over heels in love with someone doesn't always mean that you'll feel the same way about their family. Many of the Teen Mom cast members have experienced this firsthand and have spent years feuding with their baby daddies' families. In fact, sometimes it's their own families that are starting the feuding!
Jenelle Evans has had her fair share of feuds in her time on Teen Mom 2. In fact, she's still in the midst of a feud with her own family. But Jenelle isn't stingy when it comes to her battles, and she's taken aim at some members of her husband David's family as well.
Jenelle is also no stranger to the legal system. If she needed to get familiar again, here's her chance!
Keep reading to check out a sneak peek of Teen Mom 2!
"Shut up!"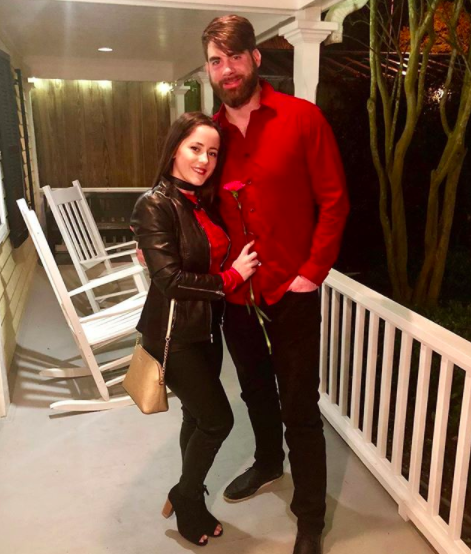 Only a few season ago on Teen Mom 2, Jenelle Evans informed her mother that she'd met someone new on Tinder. Little did Barbara know that Jenelle's new bae would soon become her baby daddy and husband, or that he would play a huge role in the crumbling of their relationship.
David Eason has been a controversial figure from the very beginning, but that hasn't stopped Jenelle from defending anything he does. She's sided with him on every issue, even when that means turning against her own mother. So is it a surprise that David has sided with Jenelle against his own sister, Jessica?
Jenelle and Jessica started feuding soon after she moved in with David. Jessica made it clear that she didn't think that Jenelle was worthy of her brother. She spilled on a fan Facebook group, "[David] will always be my baby brother. I saved his life once as a baby. He was lying on the floor blue in the face, so I opened his mouth and saw a shiny coin in the back of his throat. I flipped him over and scooped it out! So when someone comes into his life, they get along with his family and we tight… Except this thang!"
Fans wanted more details about Jenelle, but Jessica was resistant at first. "I don't wanna bash the poor girl," she said. But that didn't last for long.
Jessica soon added, "Ok u want more? I got the memo u still talking.. Ya smoked weed while pregnant….It must have been the fact that I din't like half the tasteless crap u gave me.. I'm sorry boo boo.. Don't u have some rehab and custody court to attend to? And my brother has pllleeennntyy of females STILL asking when he is kicking ya to the curb.. Line starts here >>>>… Don't come at me ya drug addict pawning ya kids off left and right cuz you can't handle them without David or my mama there to help u outta bed! Now shut up.."
T-Shirt Fight!
Of course, Jenelle didn't take this lying down. She soon shot back, "You got fired from New Hanover Hospital for larceny then your husband sells your only vehicle for a motorcycle when you guys have 5 kids. Your husband smokes crack. You two pop Xanax all day and lay around the house."
The feud has gotten shadier and shadier as time went on, and, oddly enough, it involved t-shirts on multiple occasions. Jenelle decided to get revenge on Jessica a few months later by leaving her nasty reviews on her T-Shirt business.
"Fake business!!!!" she stormed on the Expressive Shirts' Facebook page. "This owner is psycho! She threatens people on a daily basis on social media saying she's going to fight them and such. She also doesn't own one piece of clothing at all and uses an 'art' app on her phone to copy and paste texts onto shirts without even testing them out herself. She tried stealing a logo from another company."
According to Jenelle, she was even a customer of Jessica's at one point. "I ordered a shirt a week ago and it's still not here," she continued. "I asked to be refunded and it's taking forever! Really upset with this company! Never shopping here again."
She finished off by raging, "Maybe if the owner wasn't on drugs this business would be ran properly."
Jessica had her own attack using t-shirts, too. When MTV aired footage of Jenelle's son Kaiser screaming "Feed me," fans became incredibly concerned that Kaiser was being mistreated. Apparently, Jessica thought this was pretty funny.
She soon began selling t-shirts specifically mocking Jenelle! or the price of $23.99, she sold a shirt on her website that read "#nommom #FeedKai." On the back of the shirt is a crying face crying "Leave me alonnne!!" below which is listed "1-800-FEEDMEE." Jessica also listed "Also donating 10% of proceeds to 'Food For The Poor' charity organization!"
Soon, Jessica went public with a half-apology half-beg to Jenelle. She claimed that Jenelle's relationship with David has isolated him from the rest of his family, and that they miss him and want him back.
Missing Uncle David
"Christmas wasnt the same this year without my little brothers, and my nieces and nephews," she wrote on an old picture of David and his family. "Every holiday, every year, we've always been together, same place, same time.. Time is flying past. I hope my parents will see our family together again before it's too late."
Apparently, David has almost entirely stopped spending time with his family, which Jessica seems to blame on Jenelle. She explained in the post:
"My kids have finally just stopped asking where their uncle David is. They went from seeing him almost everyday of their life to never seeing or hearing from him at all. Our family has never been through anything like this before; we've always been strong. But, David's always [had] a good woman by his side. Not one that promotes hatred and is scared she'll be alone bc she has no family."
She even reached out to Jenelle directly, even if it was a bit passive-aggressive. "Jenelle, you're still welcome. There's not many of us that like u at this point, but that can change too- if you would open and defrost your heart. This is effecting [sic] more than just one person. It's a shame, and a waste of precious time.."
Unfortunately, it's Jessica herself who won't be spending much time with her family now. After all, she's just been locked up for drug charges!