Nip, Tuck!
When your claim to fame is having babies at a young age, there are going to be some serious changes to your body. While not all of the Teen Mom cast members have had cosmetic surgery to get back their bodies post baby, it's safe to say that the cast as a whole is no strangers to going under the knife.
Now, this cast member has decided to have surgery done, and not for the first time! She'll be adding to her list of completed procedures, and we all know she'll be showing off the results proudly once she's finished!
Big Plans
It's not uncommon for the members of the Teen Mom cast to get a few nips and tucks from time to time. We all know that Farrah Abraham is the Teen Mom plastic surgery queen, and has been vocal about her numerous procedures, including facial reconstruction, breast implants, and butt implants. Others haven't had quite as much altered, but the moms are no stranger to a "mommy makeover" as they like to call it.
It's been two months since Briana DeJesus gave birth to her second daughter, Stella Star. She's been devoted to focusing on her little girl, but now it looks like she wants to give some attention to herself as well! It's not the first time Briana has had surgery, and she seemed more than willing to share the details of her plans.
"I'm going to go back in January," Briana said in an interview with Radar Online. She revealed, "I want a tummy tuck, a breast reduction and liposuction."
Time to Heal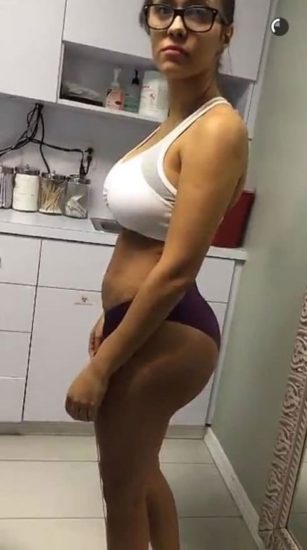 As Briana's fans will recall, she's no stranger to surgery. Just a year and a half ago, she went from 375cc to 650cc implants in her breasts. She also had a Brazilian butt lift, liposuction, and labiaplasty. She did all of this with Dr. Michael Salzhauer, better known as Dr. Miami, who is famous for filming his celebrity procedures and putting them on Snapchat.
Briana has been open about her surgeries in the past, and it seems like she was ready to dive back under the knife as soon as possible. Not long after giving birth to Stella Star, she tweeted that things were "falling out of place," and was ready to get them adjusted. But Dr. Miami let her know that she had to wait to have another procedure.
"Briana already had one labiaplasty, and although it is not common to have it done again, it is definitely not uncommon," Dr. Miami told Radar Online. "Briana will have to wait six months before I work on her again because she has to lose the baby weight, which will cause her to have loose skin," he added. "I gave Briana a whole new body. Everything from the neck down is different. In my practice, it is common to get this all done at once."
He finished, "I would absolutely do another labiaplasty on her in January after she has time to heal."
Surgery BFFs
Briana isn't the only star to work with Dr. Miami. Her fellow Teen Mom 2 star Kailyn Lowry has also had a "mommy makeover" with Dr. Miami, and seemed pleased with her results. Time will tell if she's planning another one after giving birth to Baby Lo earlier this year!
Read more about Briana's past procedures here and about her future plans here.
What do you think about Briana's decision to go under the knife again? Let us know in the comments and SHARE this article!