Will we be seeing a bump soon?
When Leah Messer first became pregnant, she was hit with a curve ball. Instead of having to raise one daughter at the age of 17, she had to raise twins! Even though she and her then-boyfriend Corey raised two adorable little girls, it wasn't always easy. From the very beginning, Leah has had a big family!
She eventually moved on to have her third daughter, Addie, with her ex Jeremy Calvert. Leah's family kept getting bigger, and now her four-girl household is a constantly supply of fun and adorable pictures for fans.
Even a four-member family is big by some standards, but is Leah ready to make it five? She's opening up about having a fourth baby!

The Set-Up
Now that Leah Messer's daughters are older, they can help their mother as much as she helps them. It seems they thought she was ready to get back on the playing field, because she recently shared that they were trying to figure out who to set her up with! And it looks like they have pretty high standards.
"The girls are naming off music artists trying to find me a boyfriend," Leah recently shared on Twitter. Unfortunately, it turns out that all of these artists are already spoken for. "Everyone they've mentioned is unavailable and Addie grumbles, 'Darn, this is just horrible,'" Leah shared with a facepalming emoji.
But that's not all that the girls want. Apparently, they want another man to join their family: a brother!
Baby Brother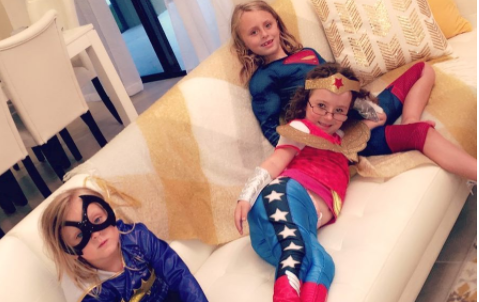 "They also think they want a baby brother," Leah shared. But she seems less keen on the idea.
"Mommy thinks that school has exhausted them and they're in la la land today. Being all kind of goofy today."
Leah seemed to shoot the idea down pretty quickly, but it's not the first time that she's talked about the possibility of giving the girls a brother. During a recent appearance on Kailyn Lowry's podcast Coffee Convos, Leah spilled that she has thought about how much easier it would be to have a son.
Boys and Girls
"I just think girls are harder in general," Leah said. "I see another mom with boys, and even as far as their hair, you're like, I'm not waking up at 5 o'clock in the morning! … Comb it over! [No] braids or pigtails. And Gracie has to have four outfits out in the morning to choose from." She added, "Girls are dramatic, too!" So it wouldn't be surprising if Leah decides to hope for a boy if she ever finds herself pregnant again.
Leah made a lot of revelations on Kailyn's podcast, including revealing the truth about her relationship with her ex, Jeremy Calvert. She revealed that she and Jeremy were still hooking up at the time!