Fans are grossed out!
There's no getting around the fact that Teen Mom is big on the drama. However, at its core it's a show that revolves around one thing: motherhood. If it hadn't been for the cast members getting pregnant when they were teenagers, they never would have become celebrities in the first place.
Although these days much of the show is feuding, fighting, and relationship problems, motherhood is always on the radar… but sometimes fans feel like parenting is more on their radar than those of the Moms.
One cast member who can't seem to shake the reputation that she doesn't give her kids the attention they need more than anyone else is Leah Messer. The mother-of-three receives a lion's share of the parenting style criticisms from fans. Luckily, she's learned to grow a thick skin about it all over the years, but that doesn't mean fans have stopped pointing out what they deem to be her failings.
Now, they've found another one — and Leah's admitting that she didn't even realize that this parenting incident slipped through the cracks until fans pointed it out!
Balance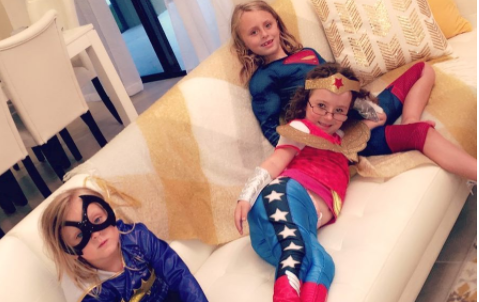 When you're balancing motherhood, trying to launch a career, and constantly have cameras in your face, having a full plate is an understatement. Many of the cast members have struggled with keeping an eye on all of their children at all times, and it's not the first time Leah has been accused of bad parenting.
Luckily, this moment was caught on camera!
Strange Snacking
The beginning of this clip from the Teen Mom 2 finale revealed a fundamental truth of motherhood: you're not going to catch it all! … and you also may never fully understand your children.
In the clip, Addie is caught standing in the fridge, eating something out of a container using a knife. It turns out she is chowing down on a full tub of butter!
Leah retweeted the video and wrote, "Addie eating that butter is disgusting. FYI: I didn't see her do that!"
Many fans were unsettled by Addie's behavior. Reddit user chatendormi wrote "Yeah that makes my stomach turn." Kcumber wrote that "the sight of this makes [them] want to vomit."
User seafoodpaella pointed out possible complications down the road, writing, "I know this is suppose to be light hearted and I love addie but! As a child who was allowed to eat whatever I wanted it had cause me to have a very unhealthy relationship with food/dieting/exercising."
Shockingly, many more commenters found the situation to be adorable, and even pretty relatable. Apparently, eating straight butter isn't uncommon among children! User shmimeathand wrote "I distinctly remember eating butter as a child just like this lol."
User JuggsMcTits wrote "My son does this. We had to put locks on our fridge."
User Saphire 1666 agreed, saying "My 4 year old LOVES butter. She asks for toast just so that she can eat the butter, and gets mad if the butter has melted before it's presented to her. She wants a glob of unmelted butter to eat on her toast. If we didn't keep our butter on a high shelf it's likely she'd pull an Addy daily."
However, many discussed a double standard that seemed to be developing in the fanbase. Some pointed out that this action would be received much differently if it happened in the Eason household. "So, let's get this straight. It's cute, funny and # goals when this one does it, but if that were… Kaiser… CPS would regret not calling off today," wrote user halloweenhavoc.
"The difference is Kaiser would be running around with the knife and tub of Country Crock outside on The Land with no supervision instead of sitting down at the dinner table having a family dinner where there is actual food to be buttered present," replied user hailsyeah.
Hey, at least the "girlses" are saying "gym" is their favorite class while eating the butter! Credit where credit is due.
What do you think about Addie's butter cravings? Let us know in the comments and SHARE this article!