What's going on with Leah?!
There are some dark moments and experiences that almost all of the Teen Moms would probably prefer had never happened. Many of the girls have experienced abuse, trauma, or violence in their past. For Leah Messer, the dark element of her past is the mysterious time that she spent in treatment — and which fuel the endless rumors that she was addicted to painkillers.
During her split from her second husband and baby daddy Jeremy Calvert, Leah Messer hit a low point. She revealed that because of her mental illness, she would be going away to a rehab center for treatment. However, most fans, as well as many people in Leah's life, believe that she was secretly going away to get treatment for an addiction to prescription painkillers.
Now, Leah has made a strange announcement, suggesting to fans that she thinks using meth sounds like a fun date. No wonder it has so many people alarmed about her well-being and scared about a relapse!
Overdose Date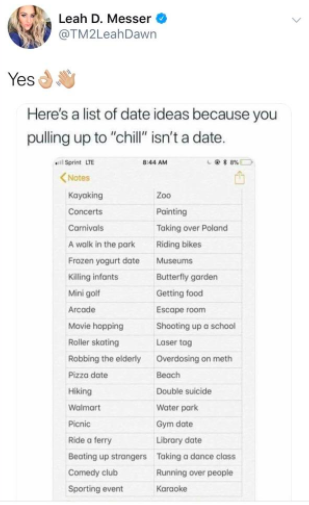 Leah Messer has spoken out about rumors of her drug addiction numerous times in the past, but has only done so to insist that she has never been an addict. In fact, she is constantly come forth to deny any and all rumors. Recently, fans took to Twitter to make such accusations.
"I hate how now Leah Messer acts like if her s**t doesn't stink b***h was a hardcore drug addict just last season," Twitter user @freakingmonkey5 wrote.
Leah's grown a lot since her first appearance on 16 and Pregnant, and she only responded coolly, ""lol. You guys don't know anything. I can't help but ROFL."
Now, the drug rumors are coming back full force because of a strange tweet leah retweeted.
The tweet read, "Here's a list of date ideas because you pulling up to 'chill' isn't a date." Although many of the so-called date ideas were normal, like "Kayaking, concerts, carnivals, a walk in the park," one of them gave fans pause: "Overdosing on meth."
Considering these rumors, this date idea seemed more than just strange; it seemed like a dangerous thing to even tweet. However, it soon became clear to fans what was really going on.
Clearing the Air
"Overdosing on meth" wasn't the only bizarre date idea that Leah tweeted. Among them were horrifying jokes like "Robbing the elderly, beating up strangers, running over people," and even extremely disturbing ideas like "Shooting up a school" and "double suicide."
It wasn't long before it became clear what was going on. One fan commented, "I don't think you read them all," and Leah replied, "omgosh some of those are really bad oh my," and quickly deleted the tweet.
Eventually the truth came out, but in the interim, it had fans pretty shaken up. Reddit user bluebuginvasion wrote, "Girl has that dark humor," and user ReginaldDwight wrote, "Or terrible reading comprehension."
User throwawatfjgtdtt wrote, "Um…..,assuming I'm not having a prolonged stroke. Leah, whattheeverlovingf*ck. Did you not read that before you posted it?!"
It soon became clear that that's exactly what happened. Leah began apologizing profusely, writing, "when I read robbing the elderly I was like wtf no [and deleted the tweet]. I didn't even read the rest Of them LMAO." She went on, "And double suicude? Omgosh that's embarrassing."
Leah may have been scandalized by the tweet, but she may not have realized how alarming it was to fans! Maybe read before you re-tweet?
What do you think about Leah's tweet? Let us know in the comments and SHARE this article!