Will she defend herself?
Like many of her Teen Mom co-stars, Jenelle Evans is never one to back down from a fight. Even though this trait has gotten her a huge amount of admiration from her ever-growing fanbase, it has also gotten her into her fair share of trouble, including assault charges taken up against her by Nathan Griffith and his now ex-girlfriend. It's true that sometimes Jenelle's headstrong nature proves her strength and bravery, but in this incident, all it seems to be doing is upsetting her fans.
While Jenelle's MTV employment is up in the air, she's sharing exactly what's going down on her and David's property AKA "The Land." A recent snap of her son Kaiser that she shared is stirring the pot again, and this might be fans' final straw with Jenelle.

"Target Practice"
Things have certainly changed in Jenelle Evans's life within a week's time. She went from a duel-income family to being the sole breadwinner of her family now that David Eason's homophobic tirade got him fired from the show. But fans who have been following this drama from the start will remember that David's scandal all started with a picture of Jenelle.
It wasn't so much the contents of the picture but the timing that had fans uncomfortable with this long-time Teen Mom 2 star. In this Valentine's day shot, Jenelle poses with a large gun that appears to be an automatic weapon. "My babes a bad a** babe!" David captioned the photo. "Happy Valentine's day! #targetpractice #valentinesday."
Everyone has different opinions about this kind of photoshoot, but the day that it was posted made the update more unfortunate. David shared the picture on the day of the school shooting at Marjory Stoneman Douglas High School in Florida that killed seventeen. When fans pointed this out, Jenelle seemed to blow it off.
Fired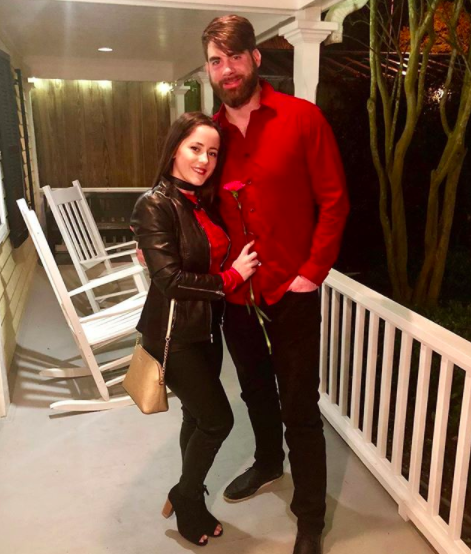 "Bad timing," she wrote, punctuated with a face palm and eyerolling emoji. David caught wind of the critiques and pushed back in his own way, making the picture of Jenelle holding a gun his Twitter profile and writing, "Is it okay if I post this picture today?"
It was in the ensuing arguments that David's homophobic views were exposed and MTV decided to give him the axe.
"Lmao why don't you go tell the homo and transgender parents to start teaching their kids better morals? Oh I forgot thats supposed to be normal," read one tweet in David's homophobic rant. "Im going to teach [my children] not to associate with them or be that way…" he said. "If you lay down with dogs you get up with fleas."
"David Eason's personal comments do not reflect the views of MTV. With six weeks left of production on 'Teen Mom 2,' effective immediately, we are ending our relationship with him," read a statement by MTV released Feb. 20, 2018.
Bad Parenting?
David is certainly off the show, but now even Jenelle's role on the show isn't secure. In fact, reports indicate that Mackenzie McKee is being considered to replace Jenelle if MTV decides to fire her.
Jenelle and David are stirring things up in her fanbase yet again, this time with a picture of her son, Kaiser. In this shot, Kaiser points and aims a toy gun, and fans had mixed reactions on Reddit. "I don't care if it's fake, their kids should not be playing with guns," wrote user fairiejen. "[David] was just fired from melting down after he posted gun pics the same day of that tragic massacre," pointed out user Driftwould92. "He's insensitive and doing it on purpose."
User misschandlermbing thought the entire thing was for show, writing,
"There's no need to post the photo even if it's going to go away in a day. They are doing it for attention and using the innocent child to get it. And that child is going to be involved in the crossfires of a stupid game to see if we can 'p*ss of the liberals.' That's what annoys/angers me."