A new update!
Despite what seems like a world of differences, the one thing that the Teen Mom cast members have in common is the fact that they all had pregnancies at the age of sixteen. That doesn't mean that all of them kept their babies though.
When Catelynn found herself pregnant by now husband Tyler Baltierra, she made a difficult decision. Instead of keeping her daughter and raising her, she decided to give her up for adoption and let her be raised by a couple who wanted a child.
But now Catelynn has updated with some news about her first daughter, Carly.

Difficult Decision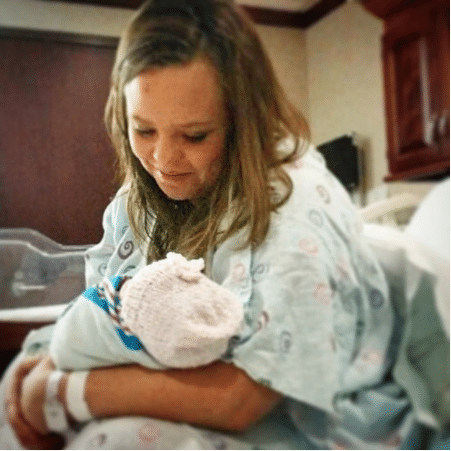 When Catelynn found herself pregnant in 2009, she was faced with a difficult decision. But instead of deciding to raise her daughter like many of the other Teen Mom cast members did, she opted to give her up for adoption.
They decided to go with an open adoption, which meant that they would have access to the personal information of the adoptive families, as well as have the option to get in touch with them and meet face-to-face. It wasn't long before the adoption went through, and Brandon and Teresa Davis became baby Carly's legal parents.
But soon tensions rose between Catelynn, Tyler and the adoptive parents. They were portrayed on the show becoming frustrated because they were denied visits. Catelynn even said, "Are we done having visits with Carly forever? Until she's 18 I'll hear nothing from her? It is f**king frustrating because I was 16 years old when I made this decision."
Tyler pointed out on Twitter that the adoptive parents had the rights to deny them access to Carly. He wrote, "They will always be justified because they are her parents and we are not. We do have an open adoption. They are just making decisions that they think are the best for Carly. Which is exactly what they should do."
Opening Up
Luckily for Catelynn and Tyler, though, they will soon be reuniting with Carly. Catelynn announced this on Twitter when she wrote, "Sooo I get to see Carly this Aug!!! We are so excited and I cannot wait for nova to see her again!!! #blessed #Adoption."
Even though this is an exciting update, many of the fans have pointed out that Cate's tweet may be more problematic than she realized. Apparently, Brandon and Teresa, the adoptive parents, did not want Carly's life to be publicized. Reddit user bbktbunny writes, "B&T have like one rule and it's don't discuss us or Carly publicly. So they finally agree to a visit and what does Cate does? Scream it from the social media mountain tops." User catelynnscarlyblanke agreed, "GODD**IT CATE. This is exactly why B&T are so reluctant to be more open with you a**clowns. Why does the world need to know that they're visiting Carly? Seriously. C&T are given an inch and take a mile every freaking time. I wonder how they'll make Brandon and Teresa uncomfortable this time around." They later went on to say, "This is why I personally think Cate does not benefit from physically seeing Carly. I think it hurts her way too much to see Carly live a happy, thriving life and calling another woman Mom. Tyler has already said that it kills him whenever Carly calls Brandon Daddy, so I wonder if Cate feels the same way. They're both still way too attached to Carly and are always wondering 'what if' in regards to her adoption. Those thoughts might become unbearable whenever they see her in person.
Whether or not Brandon and Teresa are happy about it, we may be getting some new pictures of eight-year-old Carly soon.
What do you think about Cate's update? Let us know in the comments and SHARE this article!