Who will it be?
It can be easy to look at the various personalities and lifestyles of all of the Teen Mom cast members and wonder: What do these women possibly have in common? At the end of the day, the one thing that holds them together like glue is… well, being a mom!
Even though all of the girls had their first pregnancies as teenagers, many of them have had multiple children in their adulthoods. Every time it happens, it's a long road of pregnancy, baby daddies, and pictures of the newborn. It's really what ties all of the cast members together, but, currently, none of them are pregnant. So it's left us wondering: Who will have a baby next? Here's who's likely to have the next baby.

Between Babies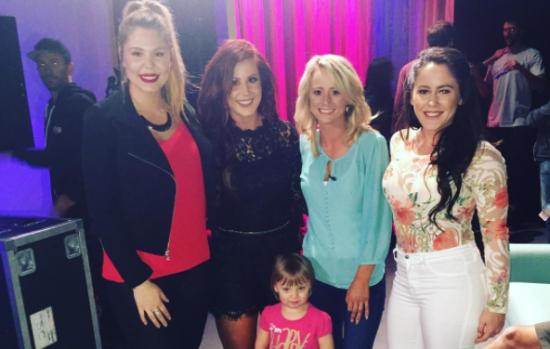 With Kailyn just giving birth to her still nameless Baby Lo, it's official: none of the moms are pregnant! Even though some of the moms plan their pregnancies, most of them seem to have unplanned births. Here are all of the moms and how likely it is that they'll be the next one to break the big baby news.
Farrah Abraham
Farrah is currently the mother of one, Sophia Laurent Abraham, who she co-raises with her mother, Debs. Since many of the other cast members are onto their second or third child, how likely is it that Farrah will become pregnant with baby No. 2 soon?
Put a Ring on It
Farrah has made it perfectly clear that she doesn't approve of her co-stars getting pregnant out of wedlock… even though she did it herself.
That said, it's led us to believe that she'll wait until someone puts a ring on it before she gets pregnant. That doesn't look like it's coming very soon, considering Farrah is #SingleAF.