She's fighting to stay strong!
Since it first appeared on MTV, Teen Mom and its spinoffs haven't shied away from showing the true difficulties of the cast members' lives. From addiction to abuse, it has captured some of the most heartbreaking experiences that the girls have had, and now one cast member is opening up about a devastating journey she's going through.
Mackenzie McKee of Teen Mom 3 fame has recently shared with fans that her mother was diagnosed with an aggressive form of cancer. Even though Mackenzie has shared her positivity and determination over the years, it's clear this update has hit her hard.
Now she's speaking out with more upsetting news about her mother's condition and the path that the cancer has taken.
Shocking Diagnosis
Mackenzie McKee revealed in January of 2018 that her mother, Angie Douthit, was diagnosed with stage four brain cancer. Masses were also found in her lungs, according to Mackenzie's updates.
Angie initially sought medical attention after she believed she had bronchitis. However, an exploratory surgery found that the causes of her ailment were actually cancerous formations. According to reports by TMZ, the surgery found five lesions covering her brain, masses in her lungs, and blood clots throughout her body.
Devastated and Shook
"I'm devastated, I'm angry, I'm shook, I can't breathe," Mackenzie wrote on an Instagram collage of her mother. "You are everything. Please pray." On a GoFundMe page for her mother, she wrote, "Angie has always been the healthiest person. Always eating everything organic. Doesn't smoke and never did, doesn't drink and she runs marathons and works out 2-3 times a day. Cancer does not run in the family. So this has come as a complete shock to the family." The GoFundMe asked for $25,000 to pay for medical bills, but the page was taken down after raising $3,102. Mackenzie also took to Twitter to write, "Haven't cried this hard in over a ten years. By far the worst night of my life. All prayer warriors. Please pray for my mom. What we thought was bronchitis turned out to be 3 masses on her brain, 1 large one in her Lungs and multiple blood clots. We are in shock and devastated."
Praying for a Miracle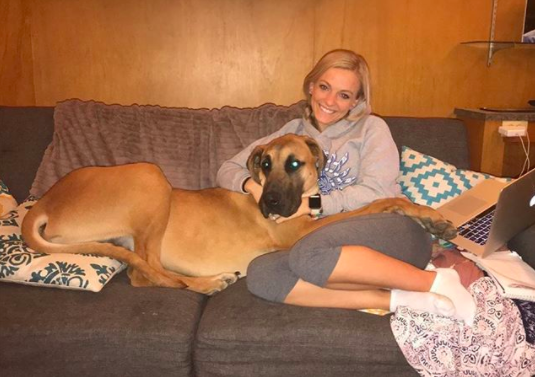 Now, Mackenzie is sharing another difficult update about her mother's health. Just after celebrating Mother's Day, Mackenzie has revealed to here that her mother's cancer has spread.
"It's been tough for me lately," Mackenzie told Radar. "I have never met anyone like her. She seems to be the only one who is not scared through all of this. She has so much hope and knows God is in control, despite doctors giving her numbers no one wants to hear." She added, "We are just praying for a miracle."