Too sad!
Even though they all have teenage pregnancies in common, the truth is that none of the Teen Mom cast member's journeys have been the same. And from the very beginning, Leah Messer has experienced a unique type of hardship when it comes to raising her little ones.
It started from the first time that she had an ultrasound. While her co-stars were shocked to find they were pregnant, Leah was in awe when she discovered that she was pregnant… with twins! And once her children were born, things got even more difficult.
When Leah's daughters were less than a year old, she began to notice something different about the way her daughter, Ali, was developing. She soon came to realize that Ali had a condition that was affecting her growth. Ali was soon diagnosed with a rare form of muscular dystrophy that had never before been seen developing in a child so young. Even though Leah was heartbroken about her condition, she's managed to stay strong and maintain hope with her daughter.
But Leah and her three daughters are some of the strongest ladies around, and sometimes that means fans don't see just how difficult things get for them. Although they've put on a brave face, it seems there are many complications regarding Ali's health that the cameras just don't see. Now, Leah is opening up with a heartbreaking update about Ali's health that has many fans in tears.
Ali's Struggles
As Leah Messer's daughter Ali gets older, she and Leah must stay vigilant about the changing needs she has due to her muscular dystrophy. On top of the physical needs, Leah must make sure that Ali stays emotionally strong. In the last season of Teen Mom 2, we've watched heartbreaking moments of Leah explaining to Ali that she needs to use her helmet and wheelchair and that these differences make her strong. Now, Leah is peeling back the curtain with more details about what Ali faces on a regular basis.
Heartbreaking Update
"As I'm doing Ali girl's makeup she looks at me and says. 'Mom, what's it like to see with two eyes?'" Leah shared on Twitter, adding a crying emoji.
It's clear that Leah is putting on a brave face for many of her fans who don't even realize how many conditions come with Ali's diagnosis. In fact, many fans were hit with emotion at this update, having not realized that Ali can't see with both eyes!
Showing Support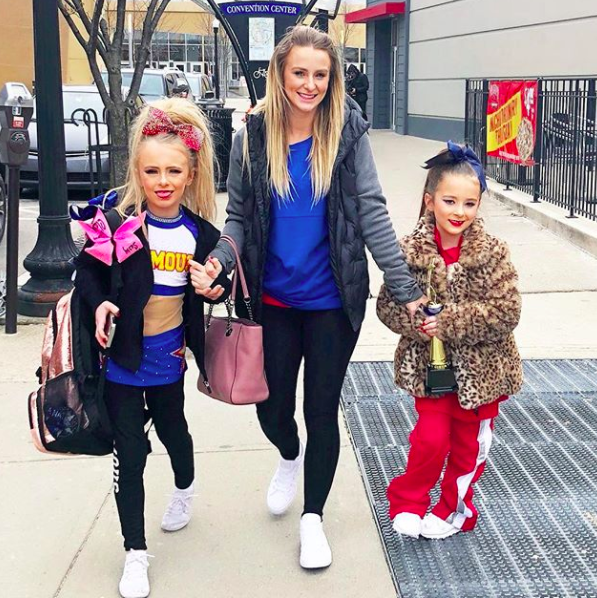 "I didn't know she couldn't see with two eyes," wrote reddit user ToriR90. "I knew she wore glasses but I didn't know her vision was that bad. How sad."
It wasn't long before fans started outpouring support for Leah and her daughter's strength. "I have no idea how difficult having a child with a serious illness or disorder can be, & to be perfectly honest I hope I never have to. God bless any mother who does," shared reddit user musky_tusk_necklace. User Whineandcheeseplz wrote, ":( poor ali girl thats gotta be hard for leah to hear."