Did she mess up?
Leah Messer has always marched to the beat of her own drum, since her first appearance on 16 and Pregnant. Even though it has gotten her huge numbers of dedicated fans, it's also made her the center of some pretty serious controversies over the years.
It's inevitable that the cameras have caught some of Leah's more humble or darker moments over the years. Recently, Leah has gotten her parenting and her life much more together, but that doesn't mean all of her controversial choices are behind her.
Now, some fans are alarmed by her choice to let her daughter dress in a way many find to be "inappropriate." Fans are calling her out, but will Leah stand her ground?

Another Slip?
Like her good friend Kailyn Lowry, Leah has had three children, all of the same gender. While Kailyn has three little rambunctious boys, Leah has three adorable girls: Ali, Aleeah, and Addie. While Leah struggled with becoming an adult herself ― sometimes her children fell to the wayside — she's putting her children first these days. It's clear they're the number one priority in her life.
Unfortunately, that doesn't mean she's not going to make some mistakes along the way, and some fans think Leah really messed up this time.
Too Skimpy?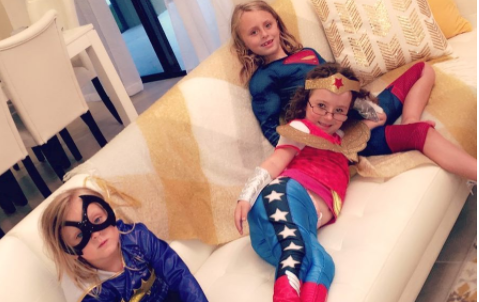 It's hard to believe that Leah's daughter Aleeah Grace is already old enough to be in cheer competitions, but Leah has been sharing updates about her cheer experience every step of the way. Fans were universally supportive… until she shared this picture of the entire cheer team. While some fans saw absolutely no problem with this, others were upset to see that the uniforms revealed the girls' midriffs.
"There is zero reason why these girls have to show their stomachs. Zero," wrote Instagram user @ilonas12, voicing the opinion of many fans who agreed. "I know cheerleading is a tough sport and there is a lot of work involved but there is also a level of sexiness that unfortunately comes with it that is not appropriate for this age."
User @r.j.xoxo22 agreed. "These are little girls. && with the way the world is now this is NOT appropriate," they said. "I would never let my girls wear something like this."
Overreacting?
Many fans seemed upset about the nature of these uniforms, but not everyone agreed that this was a controversial choice on Leah's part. In fact, many were willing to defend Leah against critics. "They are uniforms and they are kids. Get over it! People are so f**kin annoying when it comes to this s**t," wrote user @mbibbo.
User @xzanalynn made the argument that "girls probably wear less when it comes to swimming." They continued, "so why have an aneurysm because their stomachs and legs are showing? It's part of the sport. Did you expect them to wear turtlenecks and pants?"