Too weird!
We've all made some choices in the past that we might like to keep the world from knowing. Although most people have the opportunity to sweep things under the rug, the Teen Mom cast has a huge disadvantage when it comes to their past experiences. Unlike their viewers, there's video PROOF of exactly what their adolescent lives looked like.
Most of the Teen Mom cast has decided to embrace their past, since they can't deny it. Others… Well, others try as best they can to deny it despite the evidence!
Even though there are conflicting viewpoints about plastic surgery, it's ultimately any individual's decision to make whether they go under the knife or not. Many people deny that they've ever had surgery, but when there's video proof of it, it's harder to lie about. So why is this Jenelle Evans star doing just that?
Secret Surgery?
Many of the Teen Mom cast members have gotten plastic surgery over the years. Some of their augmentations have been too subtle to notice, while others share videos of the surgical procedure itself! It's up to the star to decide if they want to go public with the procedures, but once it's made public, it's hard to take it back. Now it looks like Jenelle Evans is trying to do just that!
It didn't happen!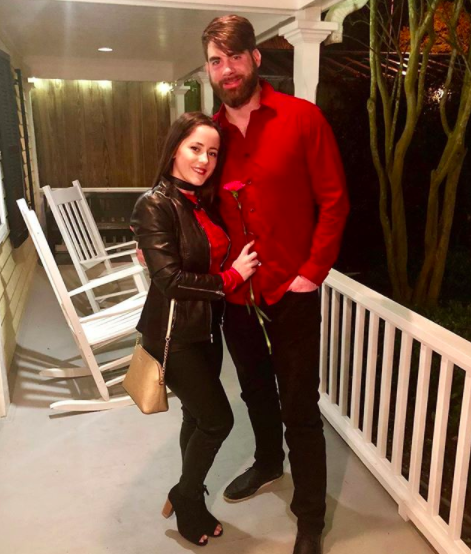 Lately, Jenelle has been feeling herself on social media. And she has every right to, considering her stunning post-baby body. She's been sharing multiple snaps of her body as she and her family relax poolside in the warm weather. Fans have been sounding off in the comments about her look, praising her for her appearance. But one fan in particular brought up how Jenelle achieved her body.
"Everyone saying they wish they could have that body after kids.. It's called exercise!" wrote on fan on Instagram. "AND.. plastic surgery.. Y'all act like she's a god."
Jenelle's husband David Eason took it upon himself to respond to the fan. "That's funny because she doesn't even work out and hasn't had any surgery at all. Some people just have a normal body and not everyone needs surgery ever think of that," he wrote.
It's great of David to defend his wife, but there's just one problem: Jenelle has been open about having multiple surgeries in the past!
There's no way!
She's shared with fans that she had breast implants as well as facial surgery in recent years. In fact, her breast implant procedure was televised on Teen Mom 2. On top of that, Jenelle has created multiple workout videos for her fans and often discusses her routines on social media, so David's statement appears to be inaccurate on both counts. Fans were quick to point this out!
"Someone should show David the episode of Jenelle getting her breasts done," wrote reddit user amberalertambs. User lucillebluth1213 wrote, "lmao there's noooo way he doesn't know her tits are fake, right? Maybe he meant like a tummy tuck or something like that? Surely he knows his wife has fake boobs??" User misspriss91 wrote, "Those are some ridiculous levels of delusion David has been having lately. I wonder if he's losing his mind on the land."