Is it finally over?
All good things must come to an end, and however devastating it is to fans, that includes Teen Mom. The show has had a great run, lasting nearly a decade and reigning as one of MTV's most popular and successful franchises. But as the cast members get farther and farther away from their teenage years, it begins to appear that the show is winding down and possibly heading for cancellation.
This year has seen a huge amount of cast shakeups in the Teen Mom lineup, which may have played a significant role in MTV's decision to pull the cord. Now it seems that this could be the last season of Teen Mom OG.
State of Affairs
When MTV revealed its decision to give Farrah Abraham the axe, fans were shocked. Even though Farrah has been known to push the envelope (to put it lightly), very few believed that MTV would ever lose one of its main cast members. Soon after Farrah's firing, there were numerous rumors of other cast members quitting and losing their jobs, which led fans to wonder just how much longer the show could stay on the air. Now one insider is clearing up the state of MTV's filming.
Will it Last?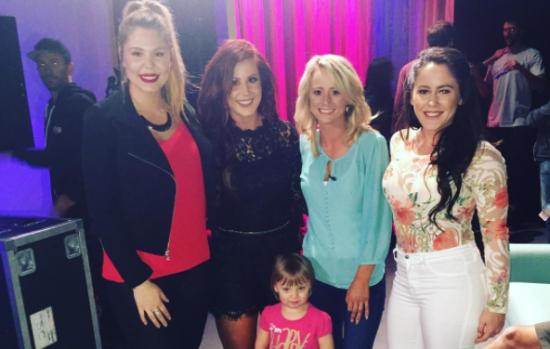 Tyler Baltierra's friend and Teen Mom insider River Ceballos is dishing on the future of the show.
"There's been a lot of talk about [the show being cancelled]," River revealed in an interview with Ok! Magazine.
"There has been a lot of talk actually, everyone's like you know this show…Everyone is dropping like flies," he added. "There's been talk of Teen Mom 3 cast members joining Teen Mom OG and Teen Mom 2…and those cast members don't like it." Apparently, things are getting ugly! River spilled, "There's catfights on sets and that kind of stuff…at reunions."
"So there is a lot of talk… 'Is it going to last?'" River continued. "How many more seasons? Who is going to watch it?"
So Much Drama!
Apparently, there are thoughts about making major changes to the format of the show. "So everyone was like we should, or MTV should…the OGs that are remaining and the original Teen Mom 2 cast members on one show or like in one house like a Big Brother type feel, or just axe the show."
Then River made it perfectly clear how he feels about Farrah leaving the show.
"A lot of people are surprised, everyone is saying now that Farrah is gone it's kind of boring… to me, I don't think so!" he spilled. "I was like trust me, without Farrah there is still so much drama."