Farrah vs. Simon!
When two inflammatory personalities meet, sometimes it seems like it's only a matter of time before they start fighting. Or, in this case, before one of them slaps the other with a cease and desist letter. Apparently Simon's comments have just become too much because now Farrah is trying to shut it down.

Slanderous Comments
Once upon a time, Farrah and Simon were thicks as theives. It seemed that they were perfectly well matched in their ability to say what was on their minds all of the time. Things didn't stay so good though, and their on-and-off relationship has devolved into a full-out fight.
Farrah is now claiming that Simon has been "stalking" her as well as making "slanderous" comments. She has told Us Weekly that in order to deal with this, she has sent a cease and desist letter to Saran, which was confirmed by her lawyers.
Twitter Feuds
Fans won't be surprised to know that Simon and Farrah are at odds right now, if their constant Twitter feuding is any indication. A few days ago, Simon tweeted, "#MTVSingeAF wasted all that money traveling the world and couldn't find farrah a date! Damn you guys f–king suck! #MTVSingeAF."
Farrah shot back, "FYI Simon is not in my life and really is hurt I've moved on. Free ride is over! Stop talking about me if you're over me lmao."
Simon replied, "Worst free ride ever!" Farrah went off on him, writing, "Why are you trying to get attention, you're pathetic & I'm a great mother, professional, friend & women. Go STOP using me for money. I'm happy I get to travel the world and meet great people unlike you at home stalking my dates and social Thank me for making you! Jealous."
No Longer Cordial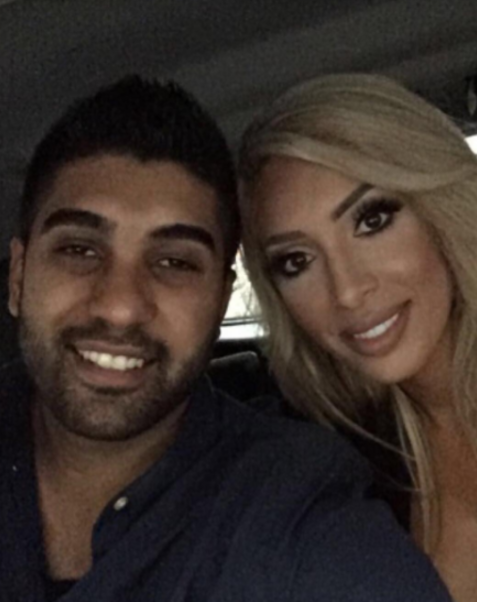 Farrah has made it clear that she's no longer going to try to stay on good terms with Simon. Apparently, things are past that point. She told Us, "I'm no longer trying to be cordial or friends with my ex." She also claimed that Simon has been reaching out to her friends to figure out her whereabouts, "ruining business deals," and "stalking [her on] social media."
She therefore decided it was time to take legal action.
See what happened!