Poor Catelynn!
In the current season of Teen Mom OG, we've seen a lot of major changes in the cast member's lives. Amber Portwood is soon to be a mother of two, Farrah Abraham is no longer on the show, and Maci Bookout — well, she's still the same, strong Maci. But Catelynn Lowell's update isn't quite so exciting.
Fans were devastated when Catelynn Lowell shared a heartbreaking update with them: she and her husband Tyler Baltierra had suffered a miscarriage. Since then, Catelynn has been in and out of a rehab treatment center for her depression and suicidal thoughts.
But things are finally looking up for Cate. She's recently left treatment and has reunited with her husband and daughter Nova. And the update that she shared after her release has fans in tears.

Separation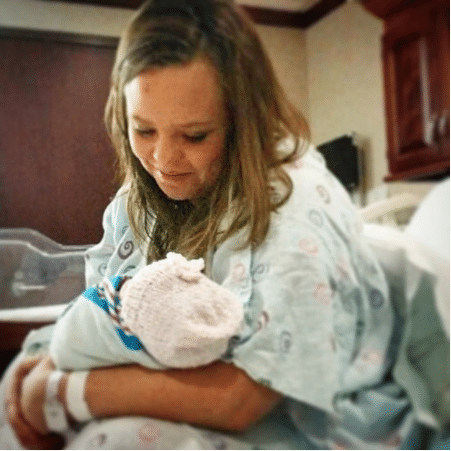 For a child as young as Nova, it can be scary, sad, and confusing to be away from her mother for an extended period of time. So when Catelynn Lowell decided to check into a rehab treatment program for her depression and suicidal thoughts after her miscarriage, it clearly wasn't an easy decision to make.
Luckily, the separation didn't last forever, and Catelynn has finally reunited with her family. After celebrating her 26th birthday, she shared pictures and videos of her and her family on Instagram, and it's clear that she's happy to be home. Now she's sharing some words from the heart that have fans all kinds of emotional.
"I am enough."
"I am enough," reads the image Catelynn shared. "I am full of sparkle & compassion. I genuinely want to make the world a better place. I love hard. I practice kindness. I'm not afraid of the truth. I am loyal, adventurous, supportive, and surprising. I am a woman. I am enough. I make mistakes, but I own them and learn from them. Sometimes I make a lot of mistakes."
Catelynn's words have touched her millions of fans, and they were quick to share their support for her reunion with her family. "You are!" wrote @rachael_potts. "Just finished watching the latest episode of teen mom, I watch in [awe] with every episode at how strong you are and how you and Tyler tackle everything together, if you guys aren't couple goals then I don't know what is!"
"Stay strong!" agreed @tany_beezy_yaya. "It's hard to push [through] sometimes and it's hard to want to keep pushing and fighting but you have a great husband that loves you deeply and a precious daughter you get to see grow and smile every day!"
Grieving Father
Catelynn has a lot of support from her fans, friends, and family, but it's clear that Tyler Baltierra needs his own time to heal as well. He shared the struggles from his perspective, tweeting an image that reads:
"People don't always see the tears a DAD cries, his heart is broken too when his beloved child dies, he tries to hold it together and tries to be strong, even though his whole world's gone wrong… What you see on the outside is not always real. Mn don't always show how they really feel. He feels he has to be strong for the others, but DADS hurt too, not just the mothers."